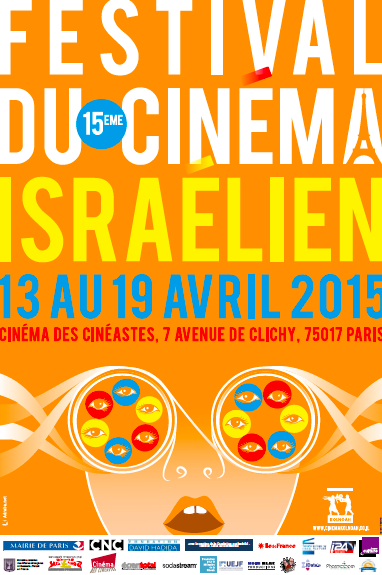 To see in Paris (April, 13)
This cultural week will celebrate meetings. Meetings with Israeli and Ukrainian cinemas, with women and their visions of reality, with TV shows, with the Joker, with vynil disc universe, with Brigitte Stora, with Urgence Darfour, with theater, with artistic game and with nature in the city. A week full of sharing and discovering.
Cinema
15th Festival of Israeli cinema
With the Festival of Israeli cinema, we'll discover directors and their films which have never been seen out of Israel. Dozens of movies, fictions or documentaries in original version with french subtitles, will be shown during 8 days at the Cinéma des Cinéastes. After the projections, there will be meetings and debates.
From April 13 to 19, at Cinéma des Cinéastes, 7 avenue de Clichy 75017 Paris. Program and informations here, or on the Facebook page.
The week of Ukrainian cinema in Paris
Organized by Anna Koriagina, this Ukrainian cinema week is a time during the Ukraine Festival which lates the entire month of April. This festival is necessarily political, with 13 short movies of Ukrainian film students of Karpenko-Karyï University in Kiev. But the most important part is art, and the discovery of Ukrainian culture.
Until April 14, at Filmothèque of Quartier Latin, 9 rue Champollion 75005 Paris. More informations here.
Visions du Réel, International festival of cinema in Nyon
One more time, Visions du Réel will be a place of sharing, which reflects the state of the world. Freedom of expression and women emergence characterize this 46th edition. Resistants, pioneers, artists, hopeful women are behind or in front of the camera, in selected movies. This cinema-verité festival is one of four most famous in the world, because it include international films for the first time. 166 films of 54 countries will be presented.
From Aprim 17 of 25, in Nyon in Switzerland. Program and tickets on the festival website.
Festival Séries Mania
The success of the first five editions makes this festival of international TV shows a place to be one time per year. The 6th edition promises a various and exciting program, in free access ! A selection of the best international series of the year will be presented by creators, with pleasure and reflection. The complete program is here.
From April 17 to 26, at Forum des Images, 2 rue du cinéma 75001 Paris. Online booking here. 
Book
75th anniversary of the Joker at La dimension fantastique bookshop
Come celebrate the birthday of the famous enemy of Batman: the Joker ! Presentation of comics with a guest, drawings by French Paper Art Club, cocktail, cosplay and diverse animations.
April 17 from 6:30pm, at La dimension fantastique, 106 rue La Fayette 75010 Paris. More informations here. 
Music
Phonographe Corp works one more time with Digger's Delight to celebrate Disquaire Day ! Labels, vynil discs collectors and DJs will be there to present their work.
April 18 from 11:30am, at La Rotonde Stalingrad, 6-8 place de la Bataille Stalingrad 75019 Paris. Informations and tickets here.
Brigitte Stora
TCHIRICLIF, the Centre Artistique Tzigane presents a exceptional concert of Brigitte Stora, a singer with warm voice and celebrating love. Tribute to the French song (Barbara, Piaf, Ferrat, Ferré, Brassens, Moustaki…), with piano, flute and accordion.
April 16 at 8:30pm, at Chapiteau du Cirque Tzigane Romanes at Caserne de Reuilly, 20 rue de Reuiily 75012 Paris. More informations here.
Private concert of Collectif Urgence Darfour
The Collectif Urgence Darfour organise a private concert to support people in Soudan. Natalie Dessay, Laurent Naouri, Didier Sandre of Comédie Française, Laura Mayne of Native, Pédro Kouyaté, Natasha et les Princes, Alain Chennevière of Pow Wow, will be there.
April 19 at 7pm, at Théâtre Adyard, 4 Square Rapp 75007 Paris. Reservations required at [email protected], informations here.
Theater 
Days of nothing, Matthieu Roy & Cie du Veilleur
Matthieu Roy proposes a new piece, according to the text of Fabrice Melquiot, asking with poetry and humor adolescence. This is the story of Rémi Brossard, an author in a Paris suburb high school. He meets two teenagers who are going to upset his writing project. They are faced to their own limits: difficulties to live and to find their place.
April 16 at 7:30pm and April 17 at 8:30pm, at Theater of Fil de l'eau, 20 rue Delizy à Pantin. Informations and reservations here.
Love will be convulsive or not, Jacky Katu
Love will be convulsive or not, a play written and directed by Jacky Katu, a former anthropologist at CNRS, will be given this April au Théâtre de Ménilmontant (to see our article here and our interview with actress Cecilia Dassonneville there). A most enjoyable play about love and the little problems related with this very strange thing.
April 15, 16 and 17 at 7pm, at the Theater Ménilmontant, 15 rue du Retrait 75020 Paris. Informations and reservations here.
Trend
Nouveau festival 2015: air de jeu
Since its first edition in 2009, the Nouveau festival is a place of expression and creation. This year, the festival will last 3 months instead of 3 weeks ! Visual artists, performers, dancers, theorists filmmakers will make dialogue between art and game. Free and unlimited access with ticket « Musée & Expositions » bought during the festival. Read our article here.
From April 15 to July 20, at Centre Pompidou, place Georges Pompidou 75004 Paris. More informations here.
Meet Cop 21 at Berges de Seine
We are pleased to invite you at the 2nd meeting of Meet Cop21, cycle of conferences and debates, related of Cop21 action words (to house, move, innovate, recycle…), which happens in a curious place: a bubble ! This first meeting will focus on nature and how vegetate the city.
April 18 at 5pm, at Berges de Seine. More informations here. 
Visuals: posters of events