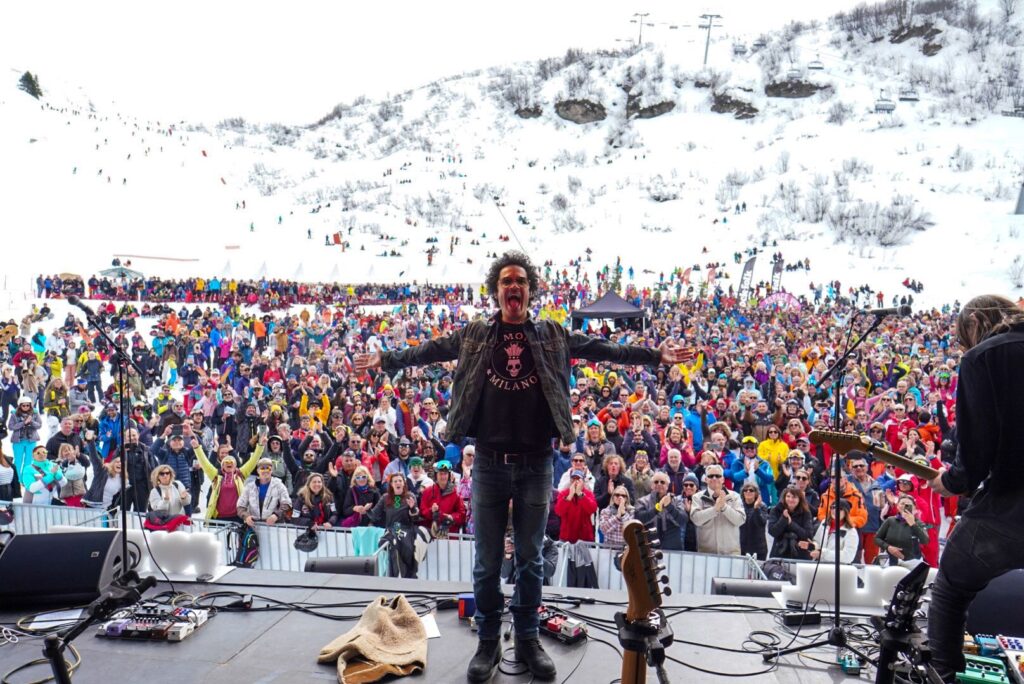 Eagle-Eye Cherry : « We try to write songs that people can relate to, where the lyrics speak to them. » – Interview
After Martin Solveig, Suzane, Møme and Klingande, Eagle-Eye Cherry offered a great show yesterday in the heart of the mountains for the Rock The Pistes Festival. The famous singer and stage performer presented his new album Back on Track, released last January, and delighted his fans playing his greatest hits such as « Falling In Love Again » or « Save Tonight ». Interview with Eagle-Eye Cherry.
Hello Eagle-Eye Cherry, how does it feel to play in the mountains?
Fantastic ! I mean, it was quite surreal, I gotta say, to look out and see people skiing and then seeing all the crowd out there and then to be playing my music, you know, because I've spent a lot of time in the mountain but I've never spent time playing concerts in the mountain.
How was your public today?
Good vibes. I couldn't complain. Perfect. Absolutely perfect. 
Your new album Back on Track was released in January 2023, what anecdote would you like to share with your fans regarding this album?

 
Back on Track, the title speaks for itself. For me it's about getting back up on stage and getting back to what I love. After two and a half, three years of pandemonium, of covid madness, I kind of feel like, now, we're starting to get back on track. 
When did you know you were going to dedicate your life to music?
It's a very good question, because very early, my father was a jazz musician, so I was playing drums from as far as I can remember. So I was gonna make music. But then, there was a journey where I kind of tried other things. I went to drama school as an actor in NYC and I started working as an actor. So it took a little time before I found my way into music. But I was always playing drums, I was playing in different bands. To get on stage as a front person, that took some time. The moment I wrote a song, that came from the heart. I suddenly realized… wow, this is fantastic !
What do you think your music should bring to your audience?
Smile. Make people feel good. We try to write songs that people can relate to, where the lyrics speak to them. I think « Save Tonight » is a perfect example of a song that lyrically everybody can relate to. They know exactly what it's about and they're taking it to heart and I think that's every songwriter's dream.
You love the stage and the stage loves you. I've heard you have a big French Tour coming up, would you like to tell us more about it?

 
Woo, you heard correct. I think it's going to be official very soon. I don't want to say too much but check my social media. We have a big plan and I'm really excited about it because France is one of my favorite countries to travel and tour, so I really look forward to it. 
Visuel : (c) Matthieu Vitré
Eagle-Eye Cherry
Rock The Pistes
Portes du Soleil
March 17th 2023