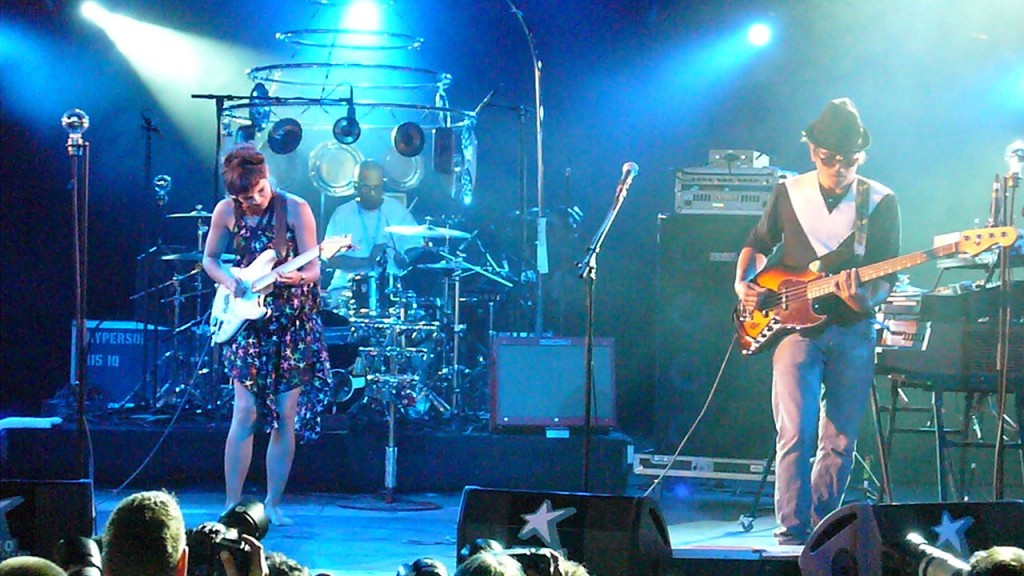 To see in Paris this week (17th of November)
What rainy days? Be it festivals or tours, this week's cultural programme offers you plenty of opportunities to quit your mittens and come clap your hands to the warm beat of various artists. Follow this sunny agenda, and you will soon come to the conclusion that summer is not dead indeed!
Festivals
NovArt festival in Bordeaux
Throughout an eclectic programme, NovArt festival will launch 40 shows ranging from theatre dance and concerts to exhibitions and various artistic settings- with as many as 89 performances. The emphasis is put on the act of reuniting and sharing in this 11th edition: 18 Bordeaux stages will take part in the event, with artists comming from as far as Brasil, Portugal, Algeria, Switzerland, Belgium and Hungary. Art, culture and cheerfulness for everybody!
From November 18th to December 5th. More information here.
Blue Note Festival
Jazz and afroamerican music's major label celebrates its 75th anniversary with a festival: a unique opportunity to applaud several quality artists. Great legends of jazz Gregory Porter and Marcus Miller are cast at the Olympia on the 18th and 23rd of November respectively. Besides, other venues such as la Gaîté Lyrique, le Duc des Lombards, le Sunset and le Baiser Salé are organizing multiple concerts as well as dedicated evenings for party.
November 18th to 23rd. More information here.
Music
Stromae at Palais des Sports (Bercy, Paris XII)
The great star from Belgium, who is to collaborate with Madonna soon, is currently touring across the world. He is expected at Bercy- Palais des Sports for 4 concerts on November 17, 28, 29 and 30; in which he will sing the great hits of his second album Racine Carrée. No more holidays for him!
More information here.
A European tour for The DØ
The franco-finnish duo who paired in 2005 criss-crosses the country for its European tour: after two concert-free years, they're comming back on stage with the songs of their 3rd album. Acoustic device are emphasised, for an electrifying effect.
In France from November 18th to December 13th (France): Paris (La Cigale, nov. 18); Dijon (La Vapeur, nov. 20); Reims (La Cartonnerie, nov. 21); Strasbourg (La Laiterie, nov. 22); Lyon (Transbordeur, dec. 3); Grenoble (MC2, dec. 4); Marseille (Espace Julien, dec. 5); Saint-Etienne (Le FIL, dec. 6); La Rochelle (La Sirène, dec.12); Lille (L'Aeronef, dec.13). More information here.
Sebastien Tellier in Paris at the Electric
National tour for our favourite French guru, who will interpret songs of his latter album Aventura on the stage of the Eletric. Come dive in his tripping universe and dance carioca to the best of his opus.
Thursday, November the 20th. You can try to win free tickets here.
Exhibitions
Pierrick Sorrin at the Galerie Pièce Unique (Paris)
This great international artist is invited at the Galerie Pièce Unique for his new project called « I'll be back at 7 p.m. ». His « installation and Optical Theatres » are set from November 20th to February 28th.
November 20th 2014 to February 28th 2015. More information here (Press Release in English).
Movies
Women in Chinese movies, at the Cinémathèque française (Paris XIIth)
France is celebrating this year the 50th anniversary of its diplomatic relations with China. For this occasion, the Cinémathèque Française in Bercy (Paris XIIth) launches a series of projections of Chinese movies, portrating Chinese women with melancholy, heroism, fantasy or realism.
November 19-30, Cinémathèque française (Bercy). Programme and information here.
Visual elements: Poster for Festival Novarts
Stromae, portrait by Universal Music
The Do, concert picture
Poster for Sebastien Tellier's concert