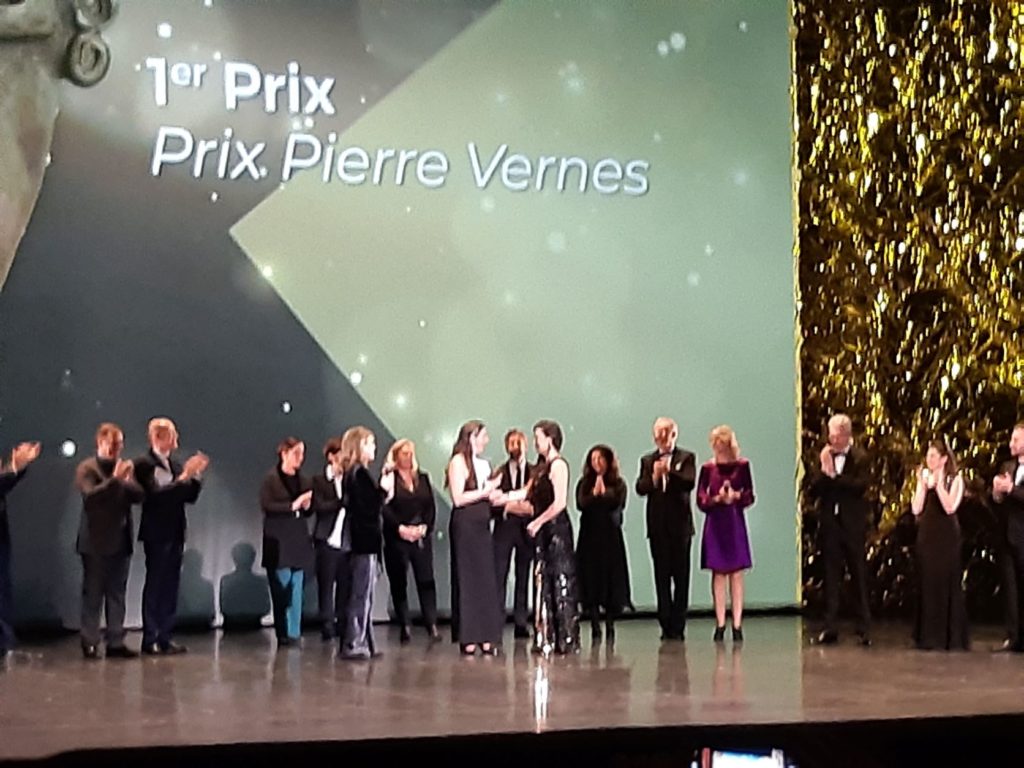 Paris Opera Competition: Anna Harvey, 1st prize winner and Julie Fuchs, godmother of the event look back on the 2022 edition
We had the opportunity to interview Anna Harvey, English mezzo-soprano, who received on Saturday 22 January the 1st Pierre Vernes Prize of the 7th edition of the Paris Opera Competition. The young singer told us about her career so far. 
French soprano Julie Fuchs, former laureate, who was godmother of this edition, also granted us a short interview where she confided in us about her exchanges with the finalists and her relationship with this generation of young singers.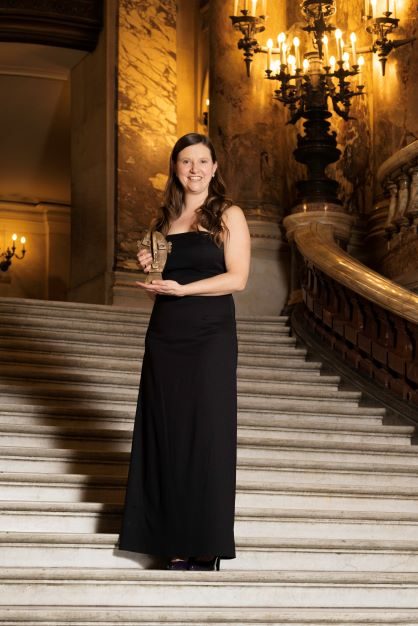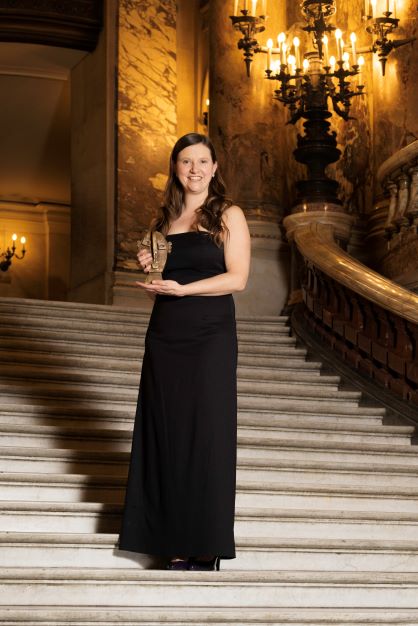 Hello Anna Harvey, Congratulations for your winning the 1st prize in Paris Opera Competition. First, I would like to ask you what are your impressions after this wonderful experience in Paris?
It felt magical, I wasn't expecting to win, and it felt very special. And to win in this venue as well was amazing. For me with this competition what I really wanted was just to get to the final. The dream was to get to sing at the Palais Garnier, and so I have a picture of the curtain of the Palais Garnier that sits by my bed and has been there for years because I think it's just the most beautiful theatre and the curtain particularly is just the most beautiful opera curtain. This picture that sits by my bed kind of sums up the opulence and the glamour of opera. So, for me the prize was just to get to sing there.
So, during the evening, and in fact my whole preparation I haven't been thinking about it as a competition, I just been thinking of it as a wonderful performance opportunity and a chance to meet new singers, to make new friends, to get to work with new colleagues and to get to sing in this venue. I was trying to kind of not think about the competition aspect and just try and do my best in the performance and enjoy.
It can be nerve wracking and performing in a setting like that, but I really love being on stage.
Everybody in the audience could see that.
I think also the pandemic has made me realize that even more. I had 18 months, maybe more where I didn't get to perform any opera because I rehearsed everything, then there was a lockdown and the Opera House shut and things were cancelled, and I only got back on stage in September this year.
And so for me, since then, every time getting to perform to a live audience has felt like a gift. I just really wanted to enjoy Saturday. I did, and I felt like the audience had a great rapport with us on stage. The applause were wonderful. The kind of energy we got from the audience, was wonderful. Winning the prize was just a kind of a bonus at the end. It was something unexpected.
The cherry on the top
Yes, I mean a really exciting and unexpected cherry!
The thing that's unique and special about this competition is that we got to stage this Gala and it felt like a chance to show what we could do as a full artist, so not just how beautiful our voices were, but acting on stage. For me I really love playing trouser roles and so you don't act like this in other competitions. You're just singing a gala and you're just singing your arias with the orchestra. That's wonderful, but you don't get to show the full extent of how you characterize playing a man. So, for me this whole competition and this Gala felt like a gift, a real chance to show what I'm like also as an actress and particularly to show what I'm like playing these trouser roles, and to show what I can do with those.
Like Julie Fuchs said, one of the other great and unique things about this competition is because you're working with others, you're also given the chance to show what you're like as a colleague, so how you make sure you don't make it more difficult for someone if they're singing, or how you give them the spotlight at that point, but you also stay in your character the whole time.
And, when you're singing together to be making music together and not trying to outdo each other. Because the thing is that opera isn't a competition in real life. It's teamwork, an ensemble. You have to sing in such a way that your voices blend, and you help each other. And then you're making music together. It's just such a wonderful competition and I know I'm biased because I've just won it, but I really think it's special because this is the job of being an opera singer, being a team player.
Actually, one of the moments I enjoyed the most was the finale ensemble. Because we had a chance to sing all of us on stage, to kind of let our hair down and just dance together and have fun together and really be an ensemble at that point with everyone on stage.
Humperdink's Hansel and Gretel duet too?
Yes, I really enjoyed it. It helped by the way, that Maria Carla Pino Cury, who I was singing with, is a good friend of mine, she lives in Dusseldorf as well.
Oh, you knew each other already. I understand better now the kind of special connection you had in this duet.
I had a good energy also with the other singers. But with Maria Carla we've already performing in Hansel and Gretel together, but she was singing a different role. She was singing the Dew Fairy and I was singing Hansel, so we'd never sung that section together. From the first day I met her and worked with her, I think she's a fantastic actress, so I really enjoy being on stage with her. We both have this energy and so it was really, really fun to get to do that scene with her. And as you said, I know that role very well. I actually I sang the role on the 7th of January, so I sang it a week before coming and I'm singing it again on Thursday this week, so it was really nice. It also felt a gift to be given it because it's probably the role that I know the best and I really love singing it. It definitely makes it easier when you already know you can sing it, so you can really play with the scene and make it a lot of fun.
Could you now tell us what has been your career path?
Where do I start? So, I came to singing a little bit later than some. No one in my family has ever been a musician before, so it was very, very new that I was trying to do this. Growing up, I was a real all-rounder musician. I played as my first instrument the recorders, flauto dolce. And so I played a lot of Baroque music and so Haendel trouser roles and Bach are still some of my greatest musical passions. I also played violin, so I played in orchestras and played chamber music, and I also sang in choirs. And so, growing up I knew I loved music.
You spent your youth in Sheffield?
Yes, in Sheffield. I'm but didn't know within music where I would go with this, and so I went to study academic music originally, so I studied at Cambridge. I did the music course there, a wonderful course, but it's very, very academic: history and theory. And as I was studying there, I sang in a choir, my Chapel choir and then I started to do opera.
Growing up, I'd never acted in any plays, so I didn't know that I could act really until I was 16 or 17. At school we did a couple of musicals, and I did one community opera. Then I went to university and joined opera society and started to try out being on stage. Then at the end of my time at university I decided to take the plunge. It felt like going to study singing was a big risk. I didn't know if I would have a job at the end of it. My parents were doctors, and my siblings are a doctor, a tree surgeon and an engineer (who is now a management consultant). They all do normal jobs, so doing something like this was choosing a very uncertain career. You don't know as a singer, if you'll make it, if you'll be able to make a living.
So, I worked for a couple of years after university and then took the plunge and applied to music college and started at the Royal Academy of Music in London. I didn't start till I was 24, I'm seeing William Desbiens in this program is only 24 now. So I started it a bit late.But then I got to the Academy, learned a lot very quickly. I'd have singing lessons maybe every three weeks before that, but this was the first time intensively focusing on singing. Learning the language, learning the stagecraft, learning acting, and dance. I had a really great time there.
I did four years of study there. And so I left music college at the age of 28 and went straight from that into working in a few different places. My first year out I did a very small role in Amsterdam at the Dutch National Opera. And I worked at some companies in the UK. One of the places I have worked most is Welsh National Opera.
In Cardiff?
Yes. In my final year at the Academy, I was told that Welsh National Opera had seen me in in an opera at the Academy so I sent them an email. I said "I hear you saw me, would you be interested in me doing anything?". So they gave me the understudy of Cherubino. That was my first step in with that company.
Understudy means you were capable of stepping into the role if the main singer is ill?
Yes, we also say cover. I was the cover for Cherubino and they did also a modern opera that I covered a role in. But the nice thing there is you get a cover performance, even if it is just with the piano. But it meant that the artistic team got to see what I was like on stage.
The year after, two years after leaving music college they offered me a position there as an associate artist. So, I had about a year of work with them doing various operas and understudies and that was the year before I came to Dusseldorf. Before that I had a year where I worked in East Germany in Weimar and Chemnitz, then I worked in Welsh national Opera, and then the summer after I started my position here in Dusseldorf and it's been at 3 1/2 years now.
Do you have a limited time staying in this ensemble in Dusseldorf?
You have a kind of a rolling contract, so it's not permanent. Every two years they renew your contract if they like you or let you know if you have to leave. But I've just had my contracts renewed in the autumn, so I'll be here for the next couple of years.
One of the joys of being here in this opera houses is the number of singers on contract here, I think it's the biggest ensemble in Germany numerically. We have we have about 50 soloists plus the opera studio.
Amazing! They could almost be able to program Prokofiev's War and Peace only with soloists from the house.
It is because we have two opera houses here: Dusseldorf and Duisburg.
The great thing about that being somewhere with a big ensemble is the flexibility. Lots of the operas we do have a double or triple cast. I was planned originally to be singing Zauberflöte in Dusseldorf on the day before the Gala and they were happy to swap in one of the other singers to sing that performance so that I was free to go to Paris.
You sing second Dame in Magic flute ?
That's right, in a wonderful Barrie Kosky production with video projections.
They're really trying to be flexible to allow you to go and work elsewhere. And actually even the Donna Anna here for Don Giovanni in Paris is member of the ensemble. She's called Adela Zaharia and she's a wonderful soprano and she's sings everywhere in lots of brilliant opera houses. She debuts her roles here in Dusseldorf and then goes off elsewhere to do them. They're good at trying to support us all in having career.
It's great when you have such a company where if you have someone ill in a leading role you have three others available locally to stand in.
You know with COVID at the moment it's been very helpful to have that because people sometimes are sick or have to quarantine because of having contact with people with COVID. There are enough people that others in the ensemble have stepped in when they've needed to. It means that if some engagements happen from this competition, I could accept it without problems.
When you see all the casting director and Opera managers in the jury, it's quite encouraging. Most of the biggest opera houses in Europe are here.
It's nice to feel that Dusseldorf opera will support other opportunities because I feel like here is the kind of the best of both worlds, because there's something nice about having a home Opera House where you know everyone. You can live in a city, work knowing that you've also got somewhere you can go to practice. And actually, I had a wonderful coaching with one of our coaches, Christoph Stöker, at the Opera House on the repertoire for this competition the week before I came, so it's great to be in a in an environment like that.
Yes, it feels a good place. Good place to be…
And a good place to grow in.
Let's talk about repertoire now. What are your preferences: you're obviously perfect in joyful roles but what about more tragical roles?
I really as you saw and as I said, I really love playing trouser roles but also musically, some of the best mezzo roles are trouser roles. The thing I would love to sing most it's Richard Strauss operas.
Like Octavian in Rosenkavalier and Komponist in Ariadne auf Naxos?
Exactly, those two are my kind of my dream. They're like top of my hit list of roles. I've sung already a lot of the smaller Strauss roles; I sang one of the maids in Elektra in Verbier in Switzerland, and I also sang the Page in Salome and Dryade in Ariadne, but I really want to sing Octavian and Komponist. I think Strauss suits my voice really well and it just happens that those two are also trouser roles, which is something that I love performing.
Also Suzuki in Puccini's Madame Butterfly that I was singing earlier this season at Welsh National Opera with maestro Carlo Rizzi, and that role I love it. It's fits really beautifully in my voice, and I just think it's a shame that Puccini didn't write more mezzo roles.
There is La Principessa in Suor Angelica for an older mezzo, but for young mezzo it is the only bigger role.
It's such a terrible role as a character.
It is true, indeed.
And then also most Mozart and Handel mezzo roles, I love them. There's of course Sesto in Clemenza di Tito , though I have been singing Annio this year and really enjoyed it, but Sesto is a dream role. And maybe Idamante as well, in Idomeneo. And then going back I've sung Haendel's Ariodante before. I was meant to be singing Ruggiero in Alcina and that is one of the things that got cancelled with the pandemic.
And then going now back to the other ends I have started my first Wagner since I am here in Deutsche Oper am Rhein. I sang Flosshilde in Rheingold and Götterdämmerung. These roles allow me acting and playing different characters. I really liked playing a Rhine maid, the kind of sexy, sensual siren. I like acting and I think getting to play really opposite characters, and I find it really interesting. Then this summer I'm singing my first Siegrune, one of the Valkyries, in Dusseldorf. So just kind of dipping my toe into that repertoire of light Wagner.
More German than Italian roles then?
I really like singing in Italian and have some quite a lot of Italian roles but if Puccini had written more… then that would be a direction.
I am thinking of French roles also.
Well, Charlotte in Massenet's Werther, is a wonderful role.
There is also Nicklausse in Offenbach's The tales of Hoffmann, another pants role. Often the singers who do Octavian and Komponist are also nice Nicklausse.
I wrote myself a list quite recently. The roles I wanted to do, and Nicklausse and Charlotte were on it in French repertoire. I didn't get to sing any French in this Gala because we only had the three pieces, but I love singing in French as well.
There's a couple of singers who I really respect and especially Dame Janet Baker and Dame Sarah Connolly. That's the kind of repertoire that I want to sing and especially Dame Sarah Connolly, she sings Dido and Ariodante, but also Fricka in Wagner. She has this kind of train of Haendel, Mozart, and then Strauss, Wagner. I think it's possible to sing all of those really well and actually for that kind of voice it suits. Obviously, both have had incredible careers.
That's all that I wish you, that you follow their traces and become Dame Anna Harvey.
(Laughs) But as I look at the repertoire they've sung and how they have handled their careers. They're inspirations to me, and I had the chance to meet Dame Janet Baker, a few years ago, which was a real privilege. They are definite inspirations for me. And actually one of the jury said to me after the Gala: "when you opened your mouth and how you were on stage, I thought you reminded me of Dame Janet Baker" and that was for me was the biggest compliment I could have ever been given.
I'm not sure that's totally true, but even if in some way I remind people of her I am very proud because I really respect her so much as a as an artist and as a person.

Anna Harvey – Das Paradies und die Peri (Schumann) : "Im Waldesgrün am stillen See" – Orquestra XXI

I've seen you used to also sing lot of oratorio and lieders. What do you enjoy in this repertoire?
I started singing with oratorio. I'm a Christian and believer so it's kind of deeply personal for me to sing a piece like the Johannes Passion or the Haendel's Messiah.
For me it's very beautiful and very personal, it's kind of worship to be able to sing these pieces. And so, I started off singing at the university in a Chapel choir in Cambridge. For me that repertoire has always been very wonderful to me. To sing about what I believe is a special thing. So that was kind of where I started out, singing oratorio first.
There's a wonderful singing tradition in the UK: there's a lot of amateur choirs and choral societies, and they put on choral concerts of Handel's Messiah, or other oratorio and getting professional soloists. I was part of a wonderful scheme when I was at the Royal Academy called the Josephine Baker Trust, where instead of just giving us scholarships, they sponsored us to go and sing in oratorio concerts for these choral societies. Basically, the choral society would pay half of our fee and the trust would pay half of our fee. And for me that was wonderful because it wasn't just helpful money, it was a chance to go and try out this repertoire for the first time.  To learn new pieces, to get to perform it a lot.
And share this repertoire with passionate choir singers?
Yes indeed. That was really all my first professional performances before I got to doing opera. All of them were doing oratorio and still to this day some of my most special performances have been oratorio. One of my dreams as a singer was to get to sing Handel's Messiah at the Royal Albert Hall.
And I've now sung it five times and my first time singing there was as part of a come-and-sing event and the choir was about 4000 people.
As the mezzo solo you finish singing 'O thou that tellest good tidings to Zion' and then 4000 people come in after you, it was just amazing. That was a dream come true, so oratorio is still important. In December I did a tour of Bach Christmas cantatas with the Gabrielli Consort & Players conducted by Paul Mac Creesh. We performed in the Wigmore Hall in London and then the Palau de la Musica in Barcelona, and in Oviedo and Bilbao.
For me it's important, if I can, to keep this balance of continuing to sing oratorio and lieder. By the way I will have an English song CD coming out in the summer. So lieder are also important.
For me again, like with Dame Janet Baker and Dame Sarah Connolly. They've both managed to have these wonderful careers where they've sung incredible opera roles in incredible venues, but also managed to keep alongside that, an oratorio and orchestral repertoire, singing with all kind of orchestral songs and lieder. So if I can continue, I really hope to be able to keep doing all of that repertoire as well.
I've seen you were also a choir conductor, and especially a gospel choir conductor. So, tell us about this.
I haven't done it for a few years because opera and my solo work is kind of taking over. But I used to do that. I did come-and-sing weekends where anybody could come, normally organized by a church. And anyone could come. They didn't need to read music, they didn't need to even read the lyrics because everything was learned by, taught by, rote, and then we would do a service or a concert at the end of the weekend. I got a lot of joy from doing that. And I also conducted a couple of times these choral societies. I never had a choir that I always conducted, but sometimes I would step in for someone to conduct a few rehearsals. I also used to teach.
All of this was really before I moved to Germany. I taught singing and I was one of the singing teachers at Christ College in Cambridge, for their choir.I suppose that lots of people start by needing a portfolio career as a singer, so doing some teaching, a bit of conducting or these kind of gospel choir weekends. And now I'm at the stage and I'm making my living entirely as a solo opera singer and concert singer, which is wonderful. But I really did enjoy all those things as well, so maybe at some point I will do it again. I know lots of people who do some teaching on the side and become coaches and mentors to younger singers.
Maybe a few years down the line I'd like to take that up again. I think being part of educating and passing on our skills is essential. It was quite inspiring to meet Julie Fuchs as she's been really involved in mentoring and supporting for the competition. I think it's an important thing to give back and encourage the next generation. I'm only just starting out myself so maybe I'm not there yet, but I think being part of passing on the skills we have and sharing that with others is important as well.
Her Instagram account :  https://www.instagram.com/annaharveymezzo/
In addition, a little talk with Julie Fuchs about the competition :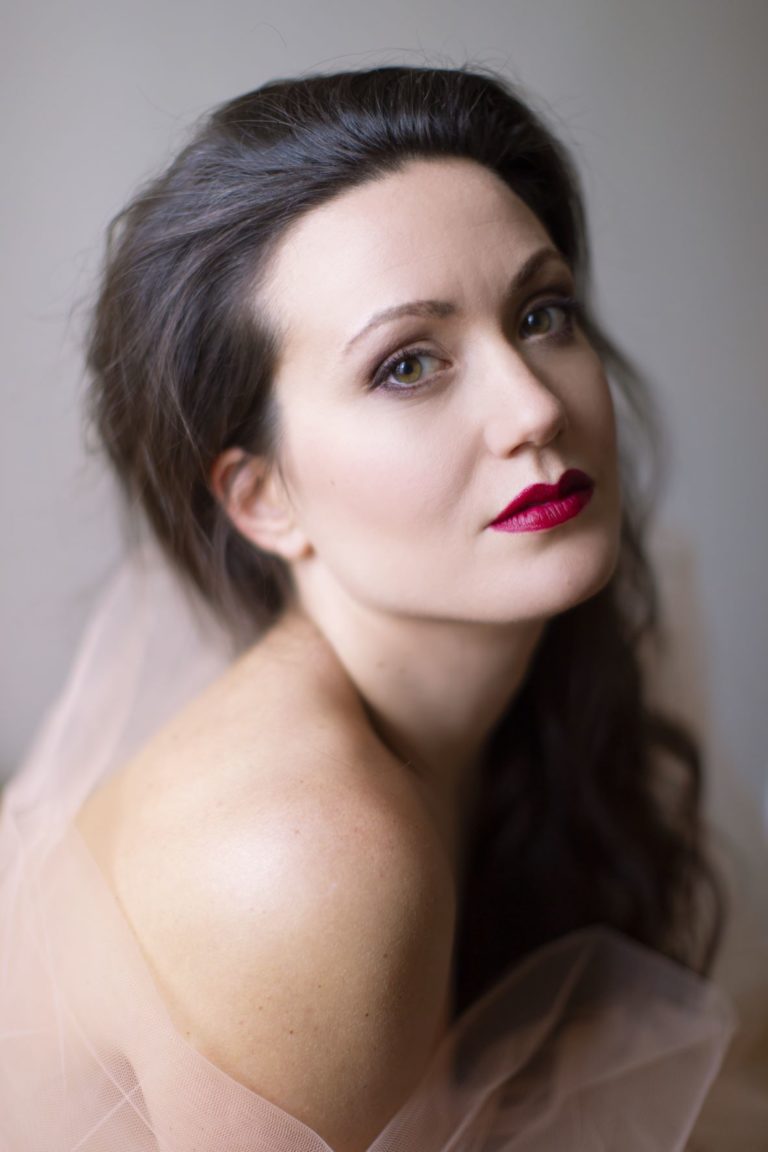 Julie Fuchs, you are one of the patrons of the 2022 edition, after having been a laureate yourself in 2010: what memories do you keep of your participation in this competition?
Indeed, for me it was the first edition of the competition, which was not yet exactly in its current characteristics, which are great, with staging, and with the possibility of singing ensembles. It was also one of my first competitions, I was still a student at the CNSM at that time and I remember that there were some important members of the jury too. So it was a great opportunity and the prize I won led me to do a recital tour. So for me it was a really good memory and a very positive experience in my career.
So it helped to make you better known at that time?
It's always difficult to know what is due to what in an artist's career. It's rare to say: "this event changed my life". On the other hand, a competition can contribute to the development of a career, if only because it allows us to improve as an artist.  It can also be a turning point in our career, by allowing us to realize something about our repertoire, by gaining control over stage fright, by meeting colleagues.  Or sometimes without having won any award because you met a casting director, who caught your eye and ear, and who will offer you valuable roles. So you don't know what can happen.
You were able to approach the finalists during the final and the rehearsals, it seemed to me that there was a very nice atmosphere of mutual support which was reflected in the images of the rehearsals that we saw?
I can confirm that indeed and I think it's quite important to emphasize it. It's not that unique!  I have the impression that we fantasize a little bit about this kind of unhealthy competitiveness that there could be between singers. I think that this era is more or less over. Of course there is competitiveness, in the sense that there are no roles for everyone, but I think that all the singers were there yesterday to have a good time. I had some pretty touching feedback with some of the singers. I told them that I had the impression that they did not seem to have stage fright, that they were rather relaxed. They explained to me that in fact until the last moment they didn't know if the contest would be able to take place with the health situation. As everything had been cancelled for 2 years, they had very few opportunities to perform. So finally, just the fact of being on stage, with an orchestra and moreover at the Palais Garnier in front of a full house, they had the impression that it was already the most beautiful reward.
And also, and this is the particularity of the competition because they perform in ensembles, they had the opportunity to rehearse for almost a week at the Bastille Opera and to get to know each other, which is not the case in most competitions. Several of them are also already in a troupe, this is probably also a factor?
Certainly there are some who are already in a troupe, others have already started their career, so they are used to working with other singers. And that's what's interesting about this competition, which includes ensembles, because that's the heart of our profession. When we perform an opera, we have one aria, two arias, sometimes three in a work that lasts more than three hours.  But the rest of the time of the opera we sing and we are on stage with the others. It is very good that this notion of the profession is present in competitions for young singers, because it is what awaits us in our professional lives. Anna Harvey, who won the first prize, stood out from the other finalists, particularly in terms of her generosity on the stage with others, and the joy of being on stage and interacting with her colleagues.
Indeed, this is what I said to her myself: she was the most comfortable on stage, and she played even when she was not singing, and was just an extra on stage. This certainly pleased the members of the jury.
With your initiative #OperaIsOpen, you are committed to breaking down the prejudices surrounding opera and its alleged elitism. Is it also important for you, now that your career is established, to support young singers?
In fact we have no choice because it is part of our responsibility as singers, especially with this pandemic, but also in a general way to transmit what we have received.  As for me, beyond the singing teachers, I regret not having had mentors or colleagues who were a little older and who could pass on more concrete things to me. At the end of the final I spoke with Serena Saenz Olivero, who immediately asked me how it was to be a singer with a child. It is a question that worries a lot, that also weakens some singers and I find it important that artists who are mothers can testify about it. Or on other practical questions, on how to manage the life of a couple when you are always away, how to choose your repertoire, all these are practical questions that are so important that you don't necessarily deal with during your studies. So now I'm doing what I would have liked someone to do with me when I was asking myself these questions.
Besides, I am also happy to see this new generation of singers coming up, which also shows us that opera is alive and that there are still a lot of people who dream about it!
Beyond these practical advices, do you already imagine yourself in the future teaching to transmit?
By the way I gave my first Masterclasses this summer in Ariège at the Castel Artès festival of my friends and colleagues Edwin Crossley-Mercer and Vincent Chaillet, who have just founded this absolutely charming festival. Edwin asked me to come and give a singing masterclass with him, and I couldn't refuse. I really loved this experience, and above all I realized that it is possible, even if you sometimes think that you won't be able to do it, either because you are impressed by the teachers that you have known yourself, or because you think that you haven't yet reached the point in your career where you can transmit.  But from the moment you start doing it, as many colleagues of my generation say, you are always surprised. This first teaching experience makes us realize that, in 10 or 12 years of career, we start to have a little bit of bottle and it is a very pleasant feeling!
You know, when you're a woman and a singer, you don't really want to get older, you don't always want to know how old you are. But when I saw the finalists of the contest, I said to myself how happy I am not to be a young singer anymore! It's so hard for them! And even though you always have to learn, and you also learn from the closeness of the young singers as well, I really appreciate the moment of career when I arrive. Now I know how to deal with certain issues and I've also learned that it's okay if other things aren't done right (laughs). I put things in perspective.
To conclude, what message would you like to address to young singers at the beginning of their career who at the moment, for some of them, are wondering about their future, with this difficult period notably linked to the COVID?
I would like to tell them that they must be absolutely serious and irreproachable of course: not to be discouraged and to continue to work on their instrument, even if unfortunately they do not have the opportunity to perform. But also try to open themselves to the world, to many new things, to enrich themselves and to work on themselves, to be open to advice. But the most important thing is to keep the notion of pleasure, and not to forget why they want to sing. Never lose sight of the fact that this is a job that you do because you love it and because you love the people you do it with!