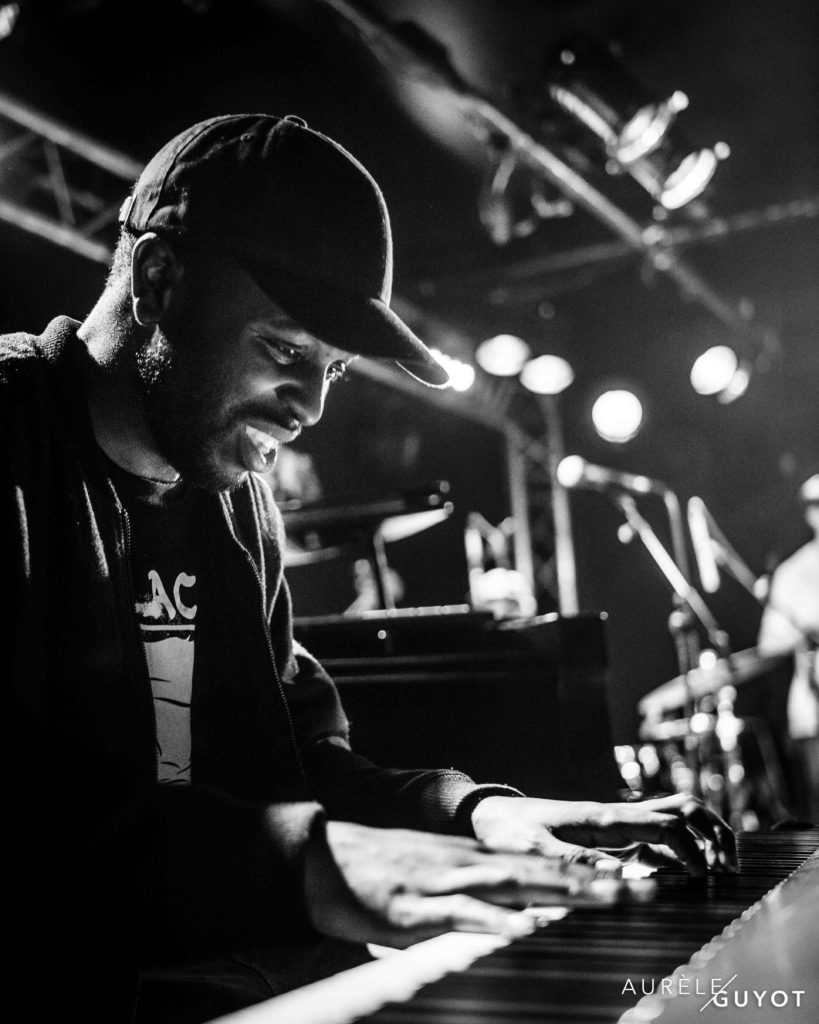 Alfa Mist : « Through the internet, anyone can discover jazz music » (Interview)
The richness of the current London scene testifies to a musical ecosystem that is conducive to the development of musicians such as Alfa Mist. A young beatmaker at first, then seduced by Jazz, the pianist quickly attracted attention in 2017 with his second EP, Antiphon, which now has nearly six million views on Youtube. The one who is sometimes compare with artists Christian Scott and Robert Glasper succeeds in creating a unique universe between cinematographic music and emotional travel. His concert at the New Morning in Paris in early April was an opportunity to meet him and learn more about this discreet artist.
By Max Girault and Jan Viez-Vandal
French Version of the article, here.
What was your first approach to music, and through which influences?
I first started to produce Hip Hop and Grime beats. I used to listen to figures of the grime scene from east London in the early 2000s. It was the time when this genre of music was really coming up. The kinds of musicians I listened to back then were people like Little Brother, Talib Kweli, and Mos Def. Rappers that were inspired by soul and jazz. I have always listened to a lot of Hip Hop and Gangsta Rap but I think the music that influenced me the most was music with jazz samples. So I tried to make beats like Dilla or Hi-Tek. I discovered jazz music through them. Then, I thought, I have to understand what was happening with this music because I liked it, so I started playing the piano about seventeen.

How would you define your music?
If I have to say a genre it would probably be jazz music. But, in a wider vision, I would say that it is emotion-based music. I always try to encourage emotion responses out of people. So it is moodier, some parts are dark, some parts are sort of reflective. I especially like the effects of film music. When you go to a film, the music plays an important part in how the audience reacts. It can make you scared, sad, or happy. Sometimes you get even more emotion from the music itself than from what you see on the screen. I love when music has that control over us. This is what I'm trying to do with my music, encourage emotion.

What would be the featuring of your dreams?
This is a hard question because there are so many great musicians, even today. Maybe Black Milk or Black Thought, one of my favorite live performers. There are so many musicians that inspire me. I cannot make a list of all of them because it would be too long.

Is there a collaboration in the making between Yussef Dayes, Rocco Palladino, Mansur Brown and yourself?
I think they are working on something, but I don't think I am allowed to speak about it. Maybe in the future, but for the moment I am focusing on my album. I collaborated on two songs with Yussef last year and I must say that I really appreciated working with him. He is really impressive. All of them are cool. I have been friend with Rocco for many years, surely one of the greatest bass players I know.

What is your perception of modern jazz? Do you think there is a revival of interest from young people towards this style of music?
I think that nowadays people are making their own songs, their own music, whereas jazz is traditionally about how well you can play someone else's music. When the industry of jazz was still significant, the emphasis was on how talented and exceptional a musician's skills were. But then a player had to prove to everyone that he was an amazing player before he could produce his own songs. Nowadays, because of the internet and everything, people who do not listen to jazz normally are just listening to songs and they are not judging whether a player is good or not. They are just listening to a song as a whole and thinking this is a good song, or this is a bad song. That is what I think is good about now. Through the internet, anyone can discover jazz music. It is not closed. There are many e-learning music courses and apps available via the internet. So, I think that if you like jazz, it's easier now to get into it than it was before. It allows you to love and practice jazz without the pressure of having to be a genius to achieve something.

Do you agree with the fact that nowadays, groove appears more important than complexity in music?
Whether a song is complex or very simple does not really matter in my opinion. What really matters is whether a song feels good or does not feel good. There are many great people making complex music which feels good as well but then people like myself aims to make music that feels good even if we are not aiming to be complex. I think it is a good balance. There is a lot of good music on both sides.

visuel : MG