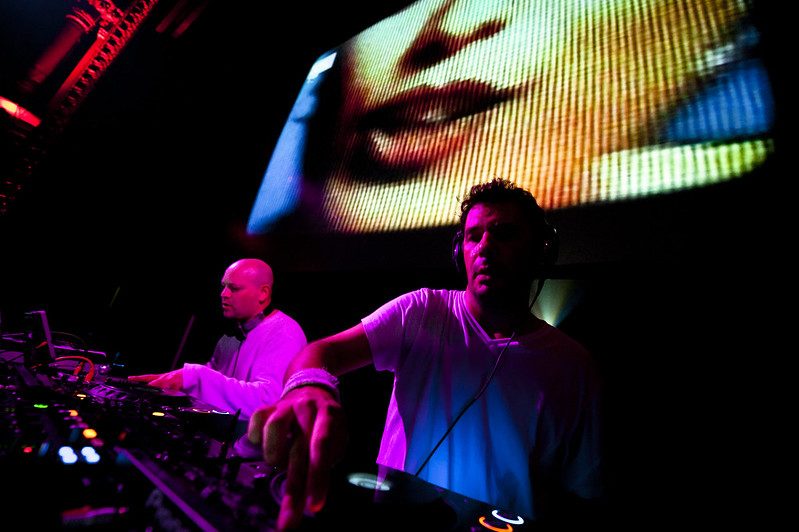 An English Speaker Takes On MaMA Fest
The 10 edition of the MaMA Festival in the Pigalle-Montmartre neighborhood brought together French and international artists to perform for the people of Paris. From rock to hip-hop, electronic and pop, and everything in between this festival held up to its hype.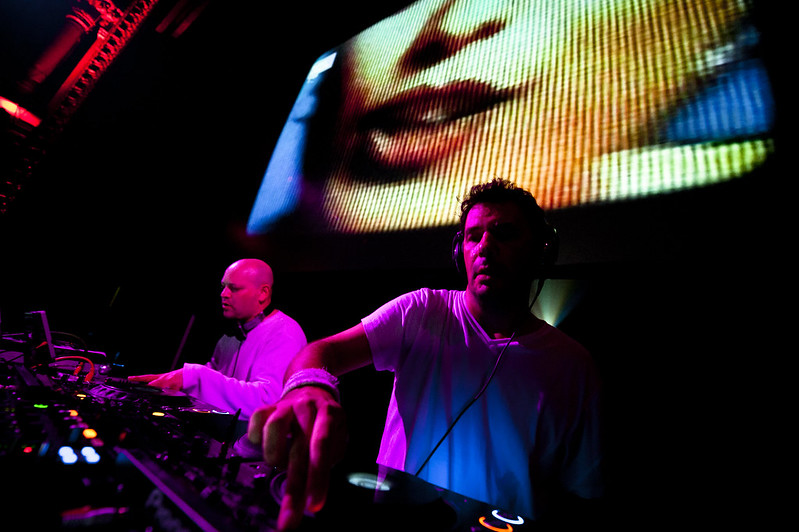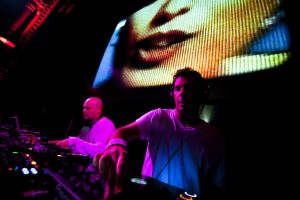 MaMA Festival is comprised of 120 concerts, 10 music venues, and 3 nights in the streets of the Pigalle-Montmartre district. From October 16th to 18th MaMA Fest provided a space for French and international artists to perform in front of a Parisian crowd, as well as the 5900 music professionals in attendance. From rock to hip-hop, electronic, pop and everything in between, the 10th version of the MaMA Festival held up to its hype. 
To begin my review of the festival, I'd like to start with the planning of the festival. Usually in the U.S., festivals are held over the weekend. When I heard this festival would be happening from Wednesday to Friday, I automatically was worried that I'd be missing shows due to work or school. However, most of the shows didn't begin until as late as 8 PM. This would allow people who work or study plenty of time to get their work done for the day, or not, and treat themselves to a night of music. This is exactly what I did! 
After working and studying all day, I would grab some food and head to the first shows of the night. Looking at the plan of the festival, I was impressed to see not many of the artists overlapped. Conveniently all of the shows were in venues in the Pigalle-Montmartre district. So as soon as one show ended I'd walk a max of 5 minutes to the next venue. This made it easy to see every artist I wanted to, even though prior to my online research I hadn't heard of any of them. 
Prior to this event, I'd never attended an indoor music festival. I never even thought it was a thing. In the U.S., music festivals are generally held outdoors. They usually reserve a park and set up stages and booths for food and drinks in different areas. I appreciated that the festival was set up in the streets of Pigalle, this meant there were plenty of restaurants and bars to stop in if necessary. Also, each venue had its own bathrooms, so no gross festival port-a-potties was a definite plus. Not to mention, the amount of waste and litter produced by outdoor music festivals is another positive of the indoor setup.
Those working the venues were also very efficient with timing and letting guests in and out. There were next to no standing lines to get into the venues, and no crowding or shoving at the doors to get in. One issue at festivals in the U.S. is that there are always people trying to sneak their way in. Being that they're usually outside, a group of people will find a fence, push it over, and run as a team. At MaMA Fest this wasn't an issue, mostly due to the high amount of security at the venues and the fact that it was indoors. 
Another thing I appreciated was the equal level each guest was put on. Unlike festivals in the U.S., there was no "V.I.P." area (AKA rich people who think they're cool for paying an absurd amount to stand by themselves in a roped-off section). At MaMA Fest, you were free to sit or stand anywhere you liked. There was no pushing or rushing the stage, everyone respected each other's personal space. It was an overall positive energy much different than that of festivals in the U.S. which are mostly just opportunities for people to show off their status. 
Despite my busy schedule, I was able to attend all three nights of the festival. Each night I would go in with a list of people I thought I'd like to see perform, which I may or may not have followed. On average, I'd end up seeing about 3-4 shows before getting tired and sneaking away from people I'd met to the metro for my bed. While I woke up for work tired each morning, the festival was more than worth it. Below is my review of my favorite artists from each night:
Wednesday: Lord Esperanza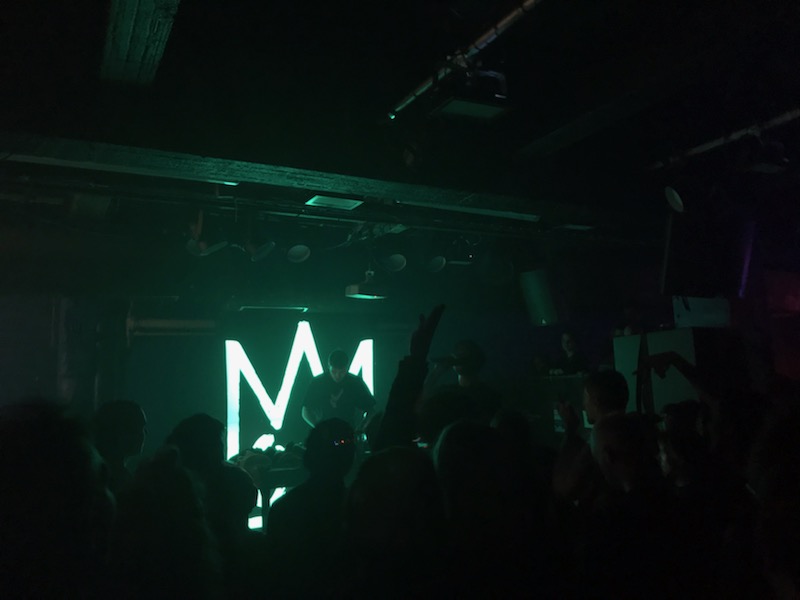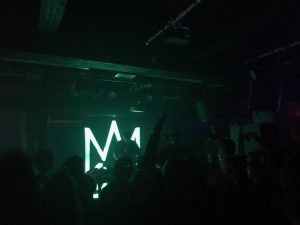 This was the first show I attended that had somewhat of a wait, and at this point in the festival, I was still pretty lost following the map. I waited outside of the Moulin Rouge for about 5-10 minutes and I got inside, however, he was nowhere to be found. I quickly discovered that the Moulin Rouge also had a basement and then I put together that the word "chauferrie" on the map probably meant that (yay for not speaking French). This was really cool because pretty much every part of the Moulin Rouge was in use at once for the festival, so you could be downstairs seeing one person perform and walk upstairs to an entirely different show. It was like being two places at once. This basement reminded me of the underground shows I'd go to in Chicago. There were about 250 people inside the basement, and Lord Esperanza had everyone jumping to his music. It was the complete experience I wanted and expected from the show.
Thursday: Yoko Moko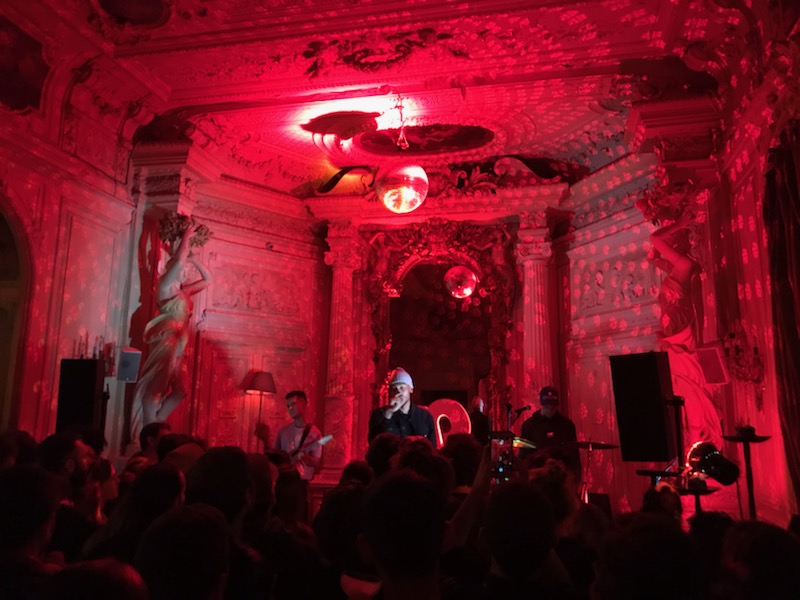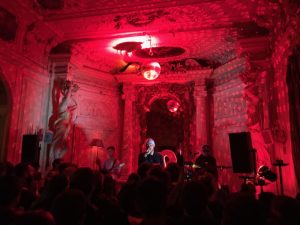 This performance was very different, in fact almost a complete contrast from the show I saw the night before. First and foremost, it was at The Carmen. The venue was completed with classical French architecture that was contrasted with the red polka dot lighting across the walls and ceilings. There were columns, grand arches, statues of women, and large golden trimmed mirrors on each wall. His music style was chilled, but still included the influence of hip hop and rap. Yoko Moko was accompanied by a live drummer and guitarist. There was no moshing or pushing in the crowd, just people swaying with their drinks in their hands and enjoying the music. I loved this show and the music. 
Friday: La Chica
This show wasn't on my original agenda for the night, but I'm happy that I ended up there. This show was the longest line I waited in the entire festival, and luckily with my professional pass I was able to get in to catch most of her performance. She performed at a club called Backstage By The Mill, which apparently is pretty popular because it was so packed it was hard to find a place to stand. However, since I went alone, I could easily walk my way between people. I somehow got my way to the middle of the dance floor, which was perfect. La Chica's style is hard to define, with mixes of Latin influence combines with modern textures and sounds. Her lyrics were in Spanish, French, and English and she used a drum to emphasize certain words. The performance was very abstract and emotional, at one point she announced that the song she'd be singing was to celebrate life and death. She was introspective and poetic, and it was easily my favorite show of the week. I stayed there dancing by myself until the show was over. 
Visual: © Claire Redden © CC BY-SA 2.0