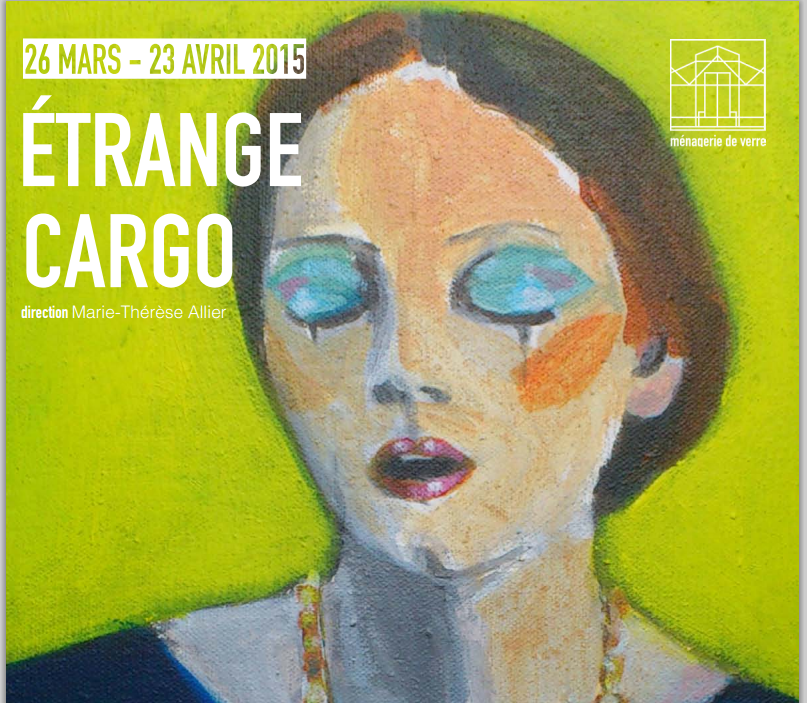 To see in Paris (March, 23)
This cultural week will make us look over the transdisciplinary art, dive in drawing, medias or design universes, discover music, painting and ecology in cinema, and enter in maritim contenairs…
Festival Étrange Cargo
The Etrange Cargo festival will celebrate his 18 years in this 2015 edition (we already talk about it here), at La Ménagerie de Verre, a unconventional place for a show. The program offers a transdisciplinary approach of dance, theater and performance, including 7 creations.
From March 26 to April 23, at La Ménagerie de Verre – Paris 11e. Informations and ticketing here.
Salon du dessin
39 prestigious galleries, specialized in old, modern or contemporary drawings, will expose over 1000 drawings for this 24th edition. The Salon du dessin is an important event in the art market, where collectors, experts or fans can be found.
Around the Salon du Dessin, there will be the 9th edition of Drawing Now Paris, an event about contemporary drawing. At Carreau du Temple, 73 international galleries will expose over 400 artists to show the diversité of contemporary drawing.
Salon du dessin, from March 25 to 30, at Palais Brongniart – Paris 2e. More informations here.
Drawing Now Paris, from March 25 to 29, at Carreau du Temple – Paris 3e . More informations ici.
26ème semaine de la presse et des médias dans l'école
This 26th week, in partnership with France Médias Monde, centered on freedom of expression. The aim is to help high school students to understand medias, with journalists interventions, a program made by France 24 for teachers which can help to discern information and manipulation on Internet, and TV specials on all channels.
From March 23 to 28. More informations here.
PAD
The PAD, Paris Art Design, is an unmissable meeting expose the best of decorative art of 20th century and contemporary design, et there will be the 19th edition.
From March 26 to 29, at Esplanade des Feuillants, Jardin des Tuileries – Paris 1er. More informations ici. 
Festival Cinéma-Ecologie
The assiociations La Ruche de Vanves and AMAP Le Panier Vanvéen enjoy presenting the 7th edition program of the Cinéma-Ecologie festival, « Le climat change, et nous ? ». Projections are free ande followed by debates. All the program here.
From March 28 to Arpil 1, at Lycée Michelet theater in Vanves.
Music
Babel Med Music
Important event for artists and business of world music, Baval Med Music will be at Dock des Suds in Marseille from March 26 to 28. A must go meeting with 31 concerts open to the public during 3 nights.
From March 26 to 28, at Dock des Suds in Marseille. More informations here.
St. Paul & The Broken Bones
One of the groups revelated at Rock en Seine in 2014, St. Paul & The Broken Bones will be at La Maroquinerie the March 27th for a concert, part of their French tour. Win your tickets here !
The March 27th at La Maroquinerie – Paris 20e. Reservations here.
Exhibition
De Giotto à Caravage
This exhibition will present the most important italian painters from the 14th throught the 17thcenturies, from Giotto to Caravage, but also Masaccio, Masolino, Piero della Francesca or Ribera. The artworks of Fondation Roberto Longhi, exposed for the first time in France, will be next to other pieces from French and Italian museums.
From March 27 to July 20, at Musée Jacquemart-André – Paris 8e. More informations on the museum website.
Vélasquez
This is the first Vélasquez exhibiton in France ever. Between landscapes, portraits, history or daily scenes, his major pieces will be presented with some of those from artists of his time, who he may know, admire or influence.
From March 25 to July 13, at Grand Palais – Paris 8e. More informations on the museum website.
Les Berges de Seine
Les Berges ailleurs: Fenêtre sur rue – ateliers M1D
Since November 10th 2014 and until April, the M1D workshop expose pieces of artists, artisans, designers, creators, every week in a maritim container in the 13th disctrict.
Some of these contenairs called "Zzz" propose a peaceful place by the water. Reserve yours for free here !
Diary and informations about Berges de Seine here.
Visuals : poster of festival L'Etrange Cargo / poster Salon du dessin 2015 / poster of Drawing Now Paris 2015 / poster of the 26ème semaine de la presse et des médias dans l'école / logo of PAD Paris / poster of Cinéma-Ecology festival 2015 / poster of Babel Med Music 2015 / DR / poster of the exhibiton De Giotto à Caravage / poster of the exhibiton Vélasquez