Levy Sekgapane, opera singer of the week
Levy Sekgapane just released an album of Rossini arias directed by Giacomo Sagripanti for Prima Classic. He is our guest this week.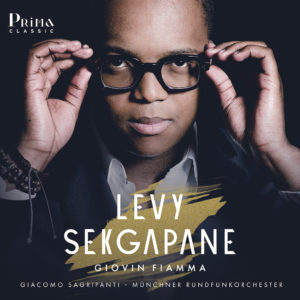 Young tenor Levy Sekgapane, who was born in South Africa, studied music and subsequently participated in opera productions in his country. Having won the first prize in a number of opera competitions, including Operalia in 2017, he has since participated in productions at prestigious opera houses such as Paris, Munich and Barcelona.
Specialized in the tenors roles in Rossini's buffa operas (il Barbiere di Siviglia, Cenerentola, il Turco in Italia, …), he also performs Donizetti (L'elisir d'amore and Don Pasquale, soon) and Mozart (Idomeneo in Salzburg lately). He will sing his first Rossini role « seria » (Idreno in Semiramide) at the Liceu next April.
Taking advantage of our meeting in Salzburg and the release of his album, he gave us an interview where he talks about Rossini, his debut and his projects as well as the importance of music in South Africa.
Hello Levy,
You have recorded a remarkable programme of Rossini's arias conducted by Giacomo Sagripanti. You obviously have the ideal voice for this repertoire you perform on stage. At this time, with the Barber of Seville, Cenerentola and Turco in Italia, you are more focused in the buffa opera yet we feel you are tempted to assume roles in seria operas…
Yes, my main focus at the moment is in Rossini's Opera buffa, Barbiere, Cenerentola, Turco in Italia and l'italiana in Algeri. I am very lucky to have this type of voice which is ideal for this music. I am 28 now and my voice is already changing and getting more stronger in the center. However, Rossini Opera seria is my favorite. I will debut Semiramide this season in the Liceu in the role of Idreno. I've waited for a long time for my voice to develop in order to do this role, now I feel ready. I will start adding more opera seria roles slowly into my repertoire.
How did you select the arias that you perform in the album?
I selected the arias that I've already sung on stage in operas – mostly opera comic arias – and also the ones I would love to sing one day which come from opera seria. All the arias are different to each other but they require the singer to approach them technically almost in the same way.
I noticed you recorded « cessa di piu resistere » from the Barber of Sevilla, which is often cut on stage because of it is technically difficult to perform and physically challenging. Moreover, few Rossini's tenors of recent decades have performed it. What is your opinion on this matter?
"Cessa di piu resistere" is a typical tenore leggero aria with lots of coloraturas of course and beautiful lines. However, it was written for Manual García but I could imagine Giovanni Davide, who was a true "tenore di grazia", also doing it. Garcia had a bigger voice to him and much lower, so this is a piece that has difficulties in terms of range and vocal fire works eg. coloratura and high notes. I'm not surprised why it was never sung on stage by all the tenors, I think you really had to be a specialist to execute it the right way. Some lyric tenors are singing it or have sung it like Ramon Vargas and Franck Lopardo but they were an exception because they could coupe with the difficult passages. The aria is also very long; you need lots of stamina to pull it off after singing almost the whole opera by yourself.
We know it is difficult to refer to the « Rossini tenor » as the role creators' ranges have been so diverse. In your recording, you seem to try not to confine yourself into one type of voice. Do you find it challenging to navigate from Almaviva and Ramiro to Idreno or Rodrigo?
Haha, good question ! I'm so in love with this music that when I sing I don't even think about the challenges I might face in all the arias. I have worked really hard over the years during my studies and afterwards to be able to sing all those arias the way I want to sing them. They are all written almost in the same way, they only differ by roles. For instance … Almaviva is a comic role and Idreno is serious; so my approach has to change stylistically… I have to be more noble and adamant in my lines. Idreno is a King, which means that every line he says is of a person of the highest power. The voice has to be deeper and stronger. For Almaviva this is not the case because he is a young man, learning how to be a king probably, so the voice has to be young with authority. But I don't find it difficult switching in between the roles. I think it's also about the attitude; you should be able to show the listeners that you can change characters with your voice.
There have been great Rossini tenors in recent decades. Are you inspired by some?
Of course without my idols, I would be nowhere near this repertoire. I was hugely inspired and impacted by Juan Diego Flórez, Lawrence Brownlee and Gregory Kunde.
Are there other Rossini's parts that you aspire to sing one day?
Yes, I would love to sing more opera seria roles and operas like Matilde di shabran, Otello, Elizabetta, Riccardo e Zoraide, etc.
How about Bellini's or Donizetti's?
Bellini, I have to wait a little bit also because the orchestration is a bit bigger, but soon I will sing La sonnambula. It's a good start. Puritani will follow later in a few years. Donizetti, I am already singing high parts like Don Pasquale – Ernesto and l'elisir d'amore – Nemorino. I will add maybe Maria Stuarda and Lucrezia Borgia, I can feel them coming in my voice now. Also there are fantastic operas I would love to sing of Donizetti like Marino Falliero which was written for Rubini.
It appears at this time that French repertoire is not part your current agenda. Do you plan to include it in the near future?
Yes I like very much the French repertoire, but for now I'm still very young; I can only sing French comic operas like la Fille du regiment, Boieldieu's La dame blanche, it's never done but that could be great, Glück's Orfeo the Paris version written for a high tenor. I have time, I would love to try Pearl fishers also I think this will be my ticket to French lyric repertoire.
You have performed in large halls as well as smaller ones. Where do you feel more comfortable?
You know acoustics for a tenor like me are very important because I love to sing where I feel my voice present and resonating all over the theater; obviously in large theaters it's slightly difficult because I don't have a huge voice. It depends on the acoustics of the hall or the theater, if they are great for my voice I'm happy.
Most recently, you have been moving from role to role at a high frequency with little time between each, including several debuts. Do you feel you could sustain such rythm over long period of time?
Wow ! You noticed I'm very impressed ! Yes it was very mental to do that, because I was always studying and stressed or nervous, that's something I will never repeat again, it's not good. I think singers need time to prepare roles and to do them well with good thought and lots of details. But if you go the way I did you have less time to focus of the details of the role. I wouldn't advice it on anyone.
You have wom numerous prizes, taking first prizes in 2015 at the International Belvedere and the Monserrat Caballé singing competitions, and another first in 2017 at Operalia. How did this benefit you career?
Competitions helped me in a huge way to be noticed by important people in the business. Coming from South Africa and trying to enter the main stream is not easy, this definitely pushed me up. After doing Montserrat Caballé and Belvedere, I took a break from competitions to focus on myself and to grow as an artist. After 2 years, I did Operalia and that also brought me out more; everybody could see me and know me.
You are originally from South Africa. Can you tell us about your musical education background and your carreer debut?
I came much later to opera, I was never a musician as a kid, I grew up playing lots of sports, like soccer/football, rugby, hockey and cricket. I was a very active child. However music was always in the family; my family sang in choirs at church and in the community. South Africa as a country has a huge music background, especially traditional music, we sing a lot when we are happy, sad, and when we celebrate weddings also.
One of my brothers older than me became a classical musician. This is where I could see all the things, he became a conductor himself, he worked a lot with opera singers in my house. I used to listen them singing Mozart in our house, slowly I got inspired. I started to imitate them and Luciano Pavarotti whom at that time I already knew. My brother brought CDs and DVD's of opera at home so that we could watch and learn. When I was about 15 years, I left sport to become a singer in choirs from there on I got my first classic singing training. I also became a pianist which was my initial instrument in university, I loved it so much. After my first degree, I switched to opera degree. I met the tenor Kobie van Rensburg who was already directing operas in Europe. He gave me one of my first chances on stage and I debuted with him la Cenerentola and Barbiere di Siviglia in Chemnitz and Mönchengladbach Germany. Everything was history from then onwards.
This takes us to the lyrical tradition in South Africa. There has been for a long time South African opera singers with significant careers. Today, Pretty Yende, Pumeza Matshikiza and yourself renew this tradition. When I visited South Africa, I was surprised by the omnipresence of singing in everyday life. This tradition seems to feed all kind of music. Do you think opera has itself been impacted by this tradition?
Yes for sure the tradition of music and singing in South Africa in general has made a huge impact on opera in the country. If you ask all these singers where it all started most of them will tell you it started from home, singing with my family, at church or at school, singing is always with us. As you know, South Africa came through a lot of problems politically, the people used to sing to face their problems, or to overcome those problems. Now that the country has great opera stars, young singers are inspired, lots of talent is been realized now. We are so lucky, I think, to have music in our lives like this, we also most probably producing great singers all over the world.
You have nothing scheduled in France for the 2019-2020 season. When will we see you again?
In France, this season 19/20, I'm not singing opera I'm afraid, but I'll be singing some concerts. The first one is in November 29th; we will do Rossini's Messa di Gloria in Paris, conducted by Speranza Scappucci.
Looking forward to that. Rossini wrote this piece for two tenors so its going to be very interesting.
Thank you very much Levy and we hope you a great season !