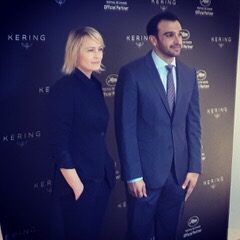 FESTIVAL DE CANNES 2017 "Women in Motion" : Talk with Robin Wright
Robin Wright opened the 3rd edition of « Women in Motion », a prestigious "rendez-vous" initiated by Kering and animated by a journalist from Variety. "Women in Motion" sets out to showcase the contribution of women to the film industry.
Par  Amélie Eleouet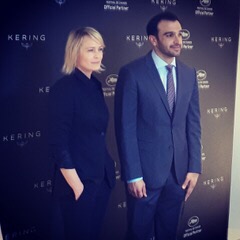 While attending the festival to present her short film "The Dark of Night", featured at Cannes Classics, Robin Wright talked about her own experience as an actress and director, her disappointments in the industry and the way things could finally change for women.
Currently in the spotlight for her role in the hit TV Series « House of Cards » for which she directed several episodes, Robin Wright has worked for some of the greatest directors and her film career is equally impressive.
She debuted notably in Robert Zemeckis' unforgettable movie "Forrest Gump" and played opposite Jack Nicholson in "The Crossing Guard" and "The Pledge", both directed by her husband at the time, Sean Penn.
Then she worked with other big names such as Antony Minghella, Robert Redford, Anne Fontaine ("Perfect Mothers") and Anton Corbijn ("A Most Wanted Man").
She will also star in the talented Denis Villeneuve's upcoming remake of "Blade Runner" (he directed "Arrival" and "Prisoners") and in the superhero movie "Wonder Woman".
Asked about the process of becoming the strong and confident woman she is today, she replies :
"It took time. I grew up fast as a child, then seeing my kids grow taught me a lot about myself".
Being on "House of Cards" was also part of the process since we are all equally important on that show."
About Claire Underwood, her character in « House of Cards »:
"She is the best of both sexes, both genders with her quietness and stoicism.
She is as fierce and evil as Frank (Underwood, her husband played by Kevin Spacey) but doesn't talk much."
On the way to make things change and showcasing the contribution of women to the film industry :
"It is just a matter of time and breaking an old school of thought. Feminism today has become derogatory. We need to encourage and promote, celebrate women's accomplishment through social media."
About the red carpet ceremonial in Cannes and the image given of women on this specific occasion ?
"That red carpet syndrome is always going to be about fashion. I don't know how to marry femininity and feminism."
When asked about the most sexist remark or attitude she had to cope with, she recalls a casting director :
« I was seventeen, he asked me to lift up my tee-shirt to make his final choice so I complied. Then he told me I did not have the part because he thought that my body was not as beautiful as another young woman's who had auditioned too."
Regarding "The Dark of Night", her short film featured at Cannes Classics :
"We had 12 hours to shoot it and it was crowdfunded for 50 000 dollars. It is set in the 30's and it deals with gender inequality. Hitchock's "Strangers on a train" has been a notable source of inspiration".
About what inspires her and feeds her own work :
"Human condition and the human dynamics. That's what makes me get up in the morning. I like to touch people's hearts."
Finally, when questioned on Netflix (at the heart of a polemic around Cannes Film Festival who decided to select two Netflix films with no distributor, which means no release in theaters) :
"I can't comment on the Netflix problem with movie theaters since I haven't heard of it. What I know is we've never had the ability to choose what we want like Netflix allows. But the movie theater will always be the first choice."