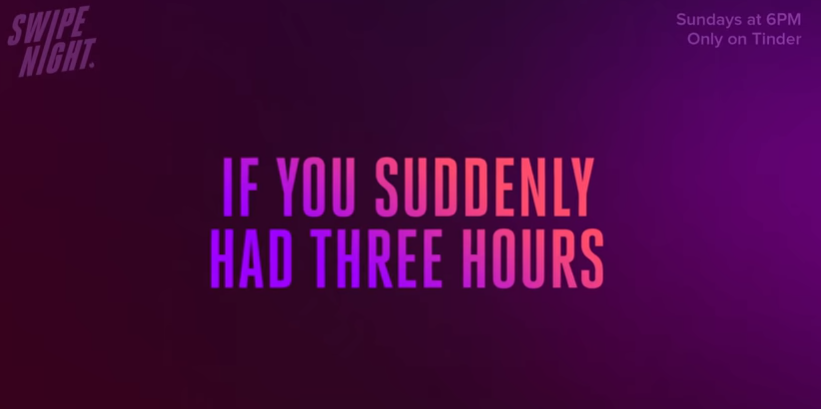 Tinder Debuts New Interactive Feature: Swipe Night
The mobile « dating » app, Tinder, has a new interactive digital experience that will influence the way users connect with one another. 
As of October 6th, Tinder has introduced its own apocalyptic, choose your own, « Swipe Night » series for its users in America. Every Sunday in October, beginning at 6 PM-Midnight, users will open the app to see a big « START NOW » button. If you decide to participate, you will be shown a report about a heading towards Earth. As the main character of the story, you're invited to a house where you'll decide how you'll spend your final hours. 
As the series continues to be presented with a sequence of choices that uses the app's swipe feature. Users are given a total of 7 seconds to make practical decisions like that, and your diary comes close to 'stay in the moment.' Every swipe you make in the party changes the course of the experience. If you do not swipe in the time, Tinder will for you. 
Directed by Karena Evans, the filmmaker behind Drake's viral music videos for « Gods Plan » and « In My Feelings, » a lot of thought went into Swipe Night's aesthetics. Small details like your phone vibrating when your character receives emergency alarms or the camera, the way the camera jolts, and the blue and the pink lighting make the Swipe Night an immersive experience for Tinder's target demographic: Generation Z. 
The whole story goes on for around 5 minutes. Once you've finished members, they can choose from the choices they made on their profile. Then profiles of other people will pop up, showing the choices they made throughout the game. After you'll be able to go to or swap the left or right as usual with these ideas. 
Evans, 23, explains that « It's not just entertainment. It's about starting deeper conversations […] I think that my generation is a yearning for, is deeper connections. « Tinder reported that about half of its users are members of Generation Z (ages 18-25), making it the most popular dating app for the generation. This is what they call the « Z Team, » a group within Tinder devoted to studying and understanding the generation.
Jess Carbino, an online dating expert, says that « Gen-Zers want to be heard and understood by larger institutions, whether it be their families, workplaces, or the media […] » Tinder is smart to focus on The hope behind the Swipe Night is going to be more important.