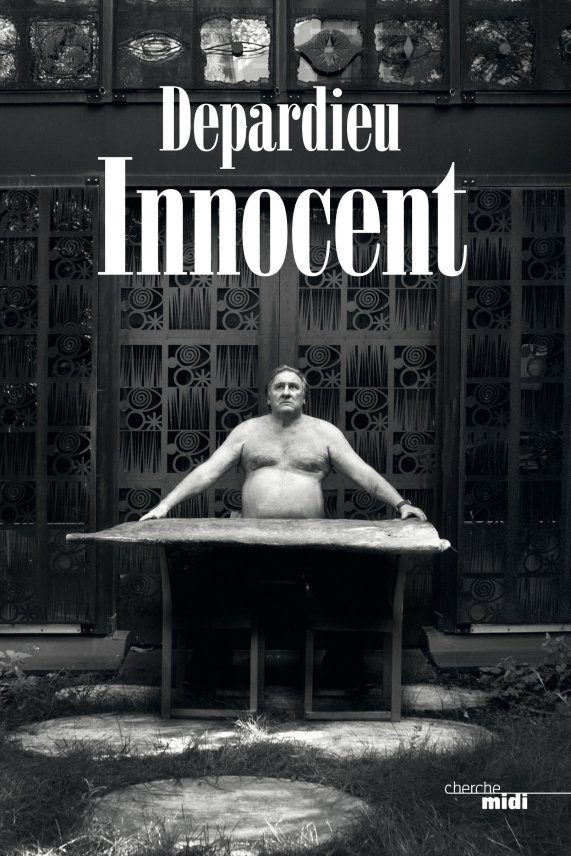 "Innocent" : An Indiegogo Campaign to translate Gérard Depardieu's book in english
The independant publishing House Contra Mundum Press launched an Indiegogo Campaign to bring "Innocent", the testimony of French actor Gérard Depardieu, to the American audience. The publication of the translation of Depardieu's book, which sold nearly 100 000 copies in France, is scheduled for September. Rainer J. Hanshe, publisher and editor, tells us about the fame of the French Actor in the american world and the challenges in the publication of his book.
To bring Depardieu's text to the US, it is HERE.
Is Gérard Depardieu really famous in the English speaking world and foremost in the U.S.? How many people could possibly be interested in reading his book?
While not as legendary — or infamous — as he is in France, if not something of an 'institution,' Depardieu is clearly well known in both the Anglophone world and the U.S. Even someone like my father, a former construction worker, is aware of who Depardieu is, and he doesn't watch foreign films. But Depardieu has worked in numerous international productions, and with Anglophone directors such as Peter Weir, Ridley Scott, Kenneth Branagh, Ang Lee, and most recently Abel Ferrara (Welcome to New York).
It's difficult to predict the readership for any book, especially since the publishing industry is exceptionally fickle, and much like the Wild West, but considering Depardieu's world notoriety, the book should attract a great number of readers. Beyond that, since it concerns friendship, cinema, politics, and religion, and makes incisive observations about numerous pressing socio-political 'issues' (faith, fundamentalism, refugees, etc.), I believe its appeal is broad, and that's why I wanted to publish it and why I think it a truly necessary book for the divisive and explosive times that we're living in. Due to Depardieu's stature, the book can have a greater impact than if a lesser well known person were to write a similar book.
Are the polemics about his tax escape well known in the U.S.? Would you name it "innocent"?
I believe that some people are aware of that action. As for pronouncing a judgment about it, I'm a publisher, not a magistrate, and I'm not a moralist. There is a propensity nowadays for many people to play the role of judge, jury, and executioner, vilifying and condemning others with ease and handing out scarlet letters in the most wanton manner, as if they themselves were sacrosanct and devoid of flaws. In any case, the notion of innocence that Depardieu espouses in the book doesn't concern his tax escape, but a way of being, a way of relating to others and the world. It's an ethos of freedom, of generosity, a simple state of being devoid of prevarication. As he says in the book, it is "a link with the Most High, a way of striving toward the perfect good, of striving toward holiness." Of "finding a kind of peace with yourself and with others. And it begins with silence." Whether or not one can be innocent all of the time is questionable, and Depardieu himself recognizes that, and he's quite self-critical and lambasts himself for certain things he's done in the past. He has a sense of humor and is perfectly capable of laughing at himself.
What was the first movie with Depardieu that you saw? How did you come across the book?
Rainer J. Hanshe: I'm not certain, but it was most probably Bertolucci's Novecento (1900). As for the book, I simply saw it in a store in Paris and was intrigued after perusing it. Once I read the entire book, I wrote the publisher to inquire about the rights and, surprisingly, they were still available, and that was some time after it was published.
Do you know him? Does he show an interest in being published in English?
No, I don't know him, nor have I ever met him, but an encounter is imminent. The wine barrels are being prepared, and the garlic sausage. When I met Cristina Chiarasini, the agent handling the translation rights, she said that he was greatly interested in the book reaching a wide audience, and that he would participate in events to promote it, as he did in France and Italy.
What costs does the campaign cover ?
The campaign is for translation rights. The printing and other fees are taken care of.
Where can one find Contra Mundum books "in real life"? Do you launch event?  How many books do you publish per year?
Aside from ordering them directly through our website, our books are distributed by Ingram, and bookstores in the US do sell them. They are also available via other online sites like the dreaded Amazon, and Indiebound.org. Although we don't have many 'followers' on twitter, the Facebook page for our art journal, Hyperion, has nearly 6,000 followers (our last two volumes were special issues on Mallarmé and included original essays by Alain Badiou, Quentin Meillassoux, Ann Smock (translator of Blanchot +) and other French and English authors of that ilk) and Hyperion's readership is quite large, stretching from the Americas to Africa, Europe, the Middle East and Asia. There are always readers one is not aware of though, people who are off the grid. Our books have been reviewed by major sources such as The Times Literary Supplement, The Guardian, The New Statesman, LARB, etc. Our very second book, a translation of Gherasim Luca's Self-Shadowing Prey, was reviewed by the TLS. So, while we don't have as many readers as we need, we have them, and many very circumspect people I've met who are scarce with praise (some famous artists I prefer not to name, as well as other editors and similar people) have spoken of how highly they regard the press, which is a great honor.
We have staged events in New York, Berlin, Budapest, and elsewhere, including a film festival on Elio Petri, whose writings (Writings on Cinema & Life) we published in 2013. So, our physical reach, as our vision of the arts, is global. Contra Mundum Press will also collaborate with Revue Gruppen of Paris and other alliances are in the works.
We publish one book every other month, sometimes more, and usually two issues of Hyperion per year. I co-edit Hyperion with Erika Mihálycsa.
Can this publication be a "coup" and help you earn lots of money? How come no major publishing house tried to get the rights after the amazing figures of sales in Europe?
Quite possibly, yes, or certainly far more than every other book we've published; if so, it would then enable us to continue pursuing other more arcane projects, which aren't profitable. It often takes years to sell out a print run, if one ever does, especially of poetry, and of some of the writers that we've published who are lesser well known and being introduced into English for the first time, so recovering advances is a long, slow process, and therefore incredibly risky for small presses. Even the most seemingly intrepid people are not such adventurous readers, and it can take years, if not actually a decade, to develop a readership for a writer that is largely unknown to the general public. Even high profile reviews haven't had a vigorous impact on sales. A project like the Depardieu book, if successful, would be very beneficial then because we are an independent publisher of extremely modest means, and although we have received grants and awards for numerous translations, it's far from sufficient for sustaining the press. Surviving as a publisher is difficult, and even more so nowadays. A few people I've encountered have questioned lending support to a company that isn't able to survive from its sales, but publishing is one of the very few industries where quality doesn't guarantee sales. No major institution — even not-for-profit museums like MoMA, the MET, and others — survives from sales alone, but through individual donors and state and other funding. Even a profit-oriented business like Elon Musk's Tesla, Inc. was not self-sufficient at first but funded by major investors. It's naïve to think that the arts and artists can survive from sales.
As for your second question, I don't know — perhaps I was lucky. The dice are rolling.
image :  : cover of the french edition of Depardieu's "Innocent" (c) Cherche-Midi éditeur