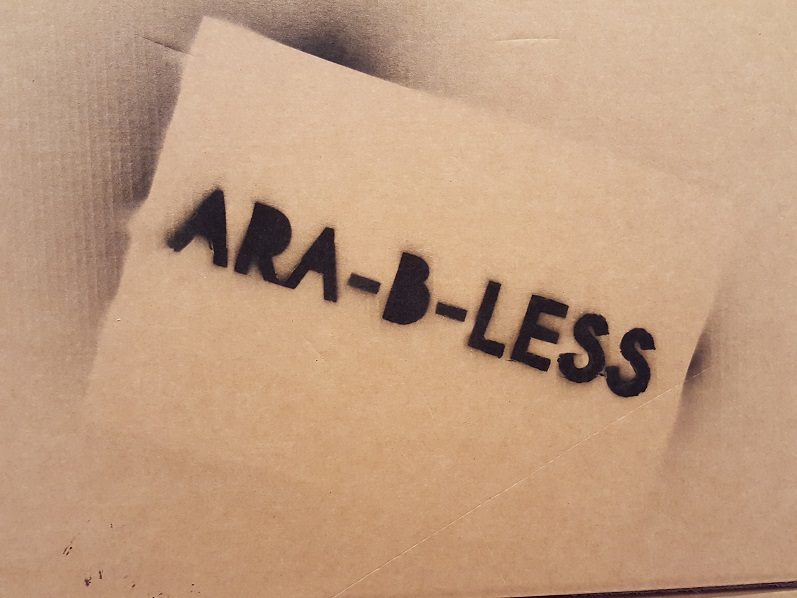 [London] ARA-B-LESS at the Saatchi gallery (04/11/2015)
In this challenging one-off show at the Saatchi Gallery, Arab artists explore their feelings of Arab identity and the representation of women in their cultures. As the Whitechapel Gallery commences the UK's largest retrospective of modern art from the Arab world and features the work of the Palestinian Emily Jacir (winner at the Venice Biennale 2007) the Saatchi Gallery is giving exposure to twelve young, confrontational artists, whose lives have straddled the West

The title itself presents a dichotomy between the idea of Arabness being a BLESSing or whether the influence of the West has LESSened the strength of their identity. The works challenge not only Western colonialism but also the suppression of female identity in Arabic countries.
This attitude is encapsulated in the work of Shadi Alzaqzouq. Growing up in Benghazi, Libya, and later following his family home to Gaza, he has spent the last eight years in Paris and recently had his work exhibited in Banksy's Dismaland. The public at the event became part of the performance "Muslim Panik" by donning the punk-style hijabs featured in his recent paintings – including the one exhibited, "Paris Calling", depicting a woman kneeling in soil before an Arc de Triomphe covered in graffiti. The effect of wearing the hijabs adorned with the Liberty Spike Mohawk both puts one in the position of being an Arab woman and a member of an anarchistic subculture, creating an effect that is comical but also unites the wearer in a tribe.
The artist himself was still clearly upset and bemused at Banksy allowing Israeli artists to exhibit alongside him in Dismaland. He protested this, but did not withdraw his work from that exhibition, eventually selling it to two of the top collectors in the world. Perhaps right there lies some of the conflict of being a politically committed Arab artist in the West. His work, nonetheless, contains the cheeky humour and provocativeness of Banksy and has proved controversial with other Muslims.
Elsewhere, Saudi Arabian artist Wejdan Reda created a contained, "indoors", space only accessible to women, where works were exhibited away from men, thus turning segregation into a privilege rather than disadvantage. Meanwhile, Algerian Mourad Krinah's untitled piece appears at first glance a Warhol-style endless reproduction of a hijab-wearing woman. Closer examination reveals she is in military garb, carrying a gun.
Tunisian ceramicist, Ymene Chetouane, presented the disturbing "Lollipops" – a wall of sculpted, wrapped baby heads, which are simultaneously human yet faceless, reflecting, she says, the gender roles of women in Tunisian society, infantilised and trapped. And in the midst of all of these works, live performances from Sarah Al Hamed disrupted the viewer, with marching women. The cumulative effect is a sense of younger Arab women refusing to be kept in the roles, boxes and confined spaces allocated to them. The irony again here is that some of these more rebellious attitudes are influenced by Western female roles, even as the West itself is presented as a malign influence on the Arab world.
The event asked more questions than it delivered answers, but that is fine – it feels like the early part of an ongoing inter-cultural conversation in which there is still much to be said. Hopefully this project, launched in Paris at Galerie Talmart last year, will find a longer-term home and wider exposure.
4th of November, 2015, Saatchi Gallery, Duke of York's HQ, King's Road, London SW3 4RY, 7-10 pm.
Text & Photos : Peter Domankiewicz