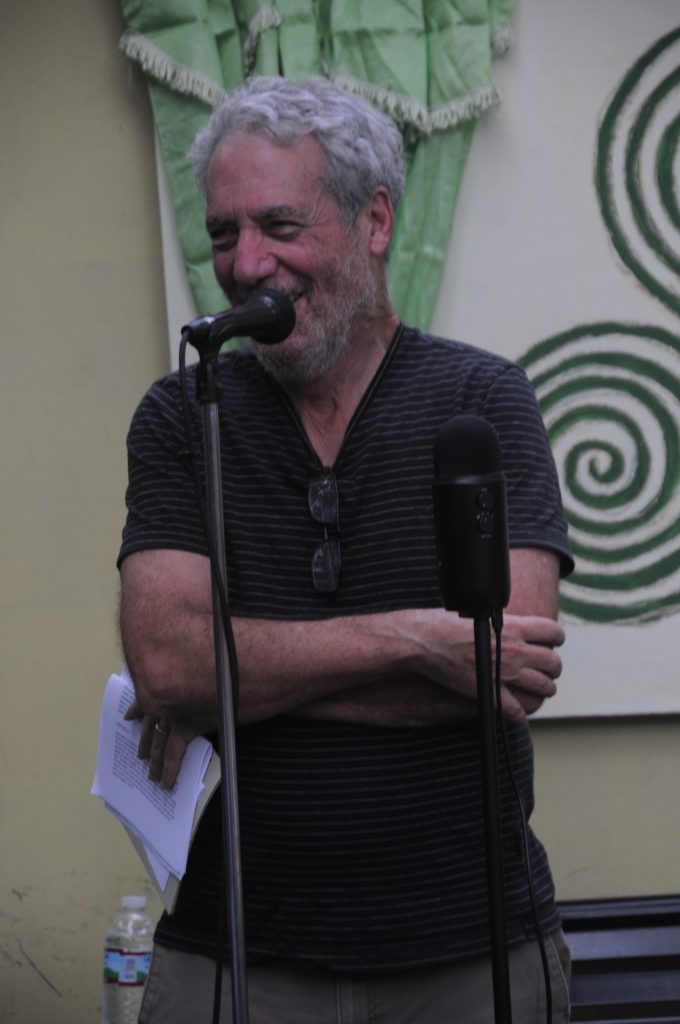 Speaking in Paris on October, the 2nd, Rodger Kamenetz evokes Buddhism, Juddaism, dreams and Poetry [Interview]
American author of the best-seller The Jew in the Lotus (Harper, 1994) which captured the importance of an historic encounter between a group of Rabbi ad the Dalai-Lama and popularized the word « Jubu » (Jewish-Buddhist), Rodger Kamenetz is also a Poet, an essayist who wrote about Judaica and a specialist of dreams. He will be visiting in Paris next week, and is debating with the buddhist monk Elisabeth Drukier, the anthropologist Lionel Obadia and Mira Miculescuthe specialist of the Jewish-Buddhist phenomenon, Hassidic meditation teacher and founder of Neshama, the association at the initiative of this encounter.
The event takes place on Monday, october the 2nd, 2017, at Centre Communautaire juif (75019 Paris, m° Gare du Nord) will be filmed by Akadem, and  Yaël Hirsch, founder of Toute La Culture,  will be moderating the conversation.
Just before the big event, we had a chat with this mensch and wise man arounf the question of dialogue and spirituality.
To attend the conference, please get tickets here and find more informations on our Facebook Event. 
You write both essays and poems : what part do tradition and its study play in your inner experiences?
My work is all poetry some in verse and some in prose. My first book The Missing Jew (1979) was a confluence of mourning the death of my Jewish immigrant grandfather and the lost « old world », a reading of a strangely translated Talmud (the Rodkinson) and my reaction to it, all written very much in the mode of the American Jewish objectivist poet, Charles Reznikoff. I would say in the world of imagination I have always very much been haunted by the voices of rabbis, I believe one of the early poems, Pilpul which I wrote in 1976 expresses my relation to the tradition and how it unnerves me and humors me and makes me human–
Pilpul
Rabbi, if a child is born with two heads
which head should wear the yarmulke
on which head the tefillin?
Some say the right head and some
say the left. All quote Torah.
Some say both heads, just in case.
But if a man is born with two heads
he is always confused. He never knows
on which head to wear the yarmulke.
Two heads and only two eyes.
He walks towards himself
in the old cemetery, where the rabbis
are buried. There seems to be some
disagreement: some are saying
we are dead; others, we are alive.
Some say both, all quote Torah.
You also brought up a new way of interpreting dreams. What is the link (or the difference) between dreaming, meditating and writing poetry, and what role do images play in these various exercises?
This is too big a question for a page or even a book. I wrote The History of Last Night's Dream both to explore the history of dream interpretation starting with Bereishit which has its own startling theory of dreams and moving through Berakhot 55B the rabbinic dream book, and then all the way through the book of Acts, the Church Fathers and Freud and Jung. I began my own exploration of dreams with a dream of a book given to me by my father, a mysterious book that posed as a commentary on Genesis. But of course as Jews we are all receiving books from our fathers and from our mothers too– the Torah is a dream and dreams are also a Torah for as the Maggid of Mezritch teaches, every thought and feeling and certainly every dream can lead us back the divine if we could only learn to trace it to its root. Dreams deepen our understanding of feeling, of relationship and of beauty and all of these lead us into the sacred encounter.
The Jew in the Lotus – 25 Years After the Journey from NMAJH on Vimeo.
Do you believe in religious « dialogue »? How is it possible to overcome controversy when it comes to dealing with the truth and the sacred?
I believe in human dialogue. We must love our neighbors as ourselves and to do this we must reach the place where controversy yields to love. To learn to open ourselves to the beauty of other traditions deepens our appreciation of our own. How we can we speak the Shema and think there is an other so alien or different from ourselves that we can't try to build a bridge between us? We are the people who pronounce the One as a holy name. When we go deep enough into ourselves we can go deep enough with the other. Of course we must be prudent about where to begin. If we begin with differences the dialogue will not begin. If we search first for what we have in common, then I believe we can establish a basis for dialogue. In the Jewish-Buddhist dialogue the Dalai Lama opened the dialogue by asking for 'the secret of Jewish spiritual survival in exile. » This was a very heart-opening question. It made the Jewish group eager to exchange and eager to learn from a Buddhist master.
visuels : book covers, official portrait and books cover