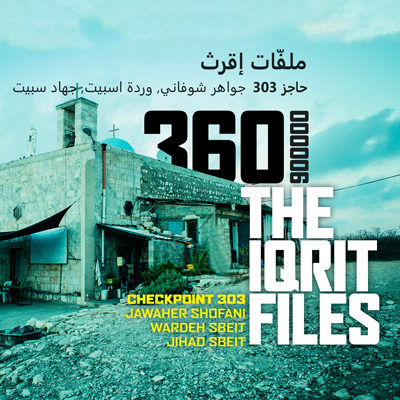 Interview with MoCha, from collective sound cutters Checkpoint 303
Article en anglais publié dans le cadre du Dossier Résistance de la rédaction

Checkpoint 303 is an international musical collective of "sound catchers" or "sound cutters", known in the electronic music world as SCs. They are mainly working on a not-for-profit basis, as their goal is to maintain an artistic independence. The band centres on Tunisian musical artist, oud player and SC MoCha and includes artists working inside and outside of Palestine, like Yosh and Miss K SuShi. Checkpoint 303 is inspired by the sounds of the daily lives of millions of people in the Middle East. They came to international fame in 2007 when they played in a series of supporting acts for the British band Massive Attack. They since have had their work cited in publications as diverse as the UK's Channel 4 TV, French daily newspaper Le Monde and British Airways' guide to Tunisia. Their latest album, The Iqrit Files, is a mix of Palestinian songs, poetry, history and landscapes, combined with exciting and joyful sounds of drum and bass, minimal techno and ambient electronic. They share the idea that art doesn't mean much without resistance, an idea at the core of everything they're doing.
Interview with Melissa Chemam
From its earliest messages, Checkpoint 303 has appealed to music to transport a message of resistance to violence, how has your message evolved since you launched your project?
The sound artwork of Checkpoint 303 is a call for human rights and above all, justice and the right to freedom and self-determination. As a result our music conveys a message of resistance to violence in all its forms, in particular illegal occupation and state-terror. Sadly, this message has not changed throughout the years, simply because the situation on the ground, be it in occupied Palestine or elsewhere across the globe, has not improved…on the contrary it has become worse.
The electro-acoustic compositions of Checkpoint 303 are literally inspired by the sounds of daily life across the Middle East and the Arab streets. Our music often takes the form of experimental audio-collages that remix sounds recorded in the streets of Ramallah, Gaza, Tunis, Cairo, Hama, Beirut, or Sao Paolo and Istanbul, to speak up against oppression and in support of basic rights for civil societies across the globe. As such the music of Checkpoint 303 is an ode to resistance in the face of violence in all its forms, ranging from brutal and illegal occupation, outright theft of land and violation of international law, to denial of basic human rights such as the right to dignity, security and freedom of expression.
How did you start the project and convince partners to follow you with such a daring idea?
The project started naturally from a need to raise international awareness about the ongoing injustice in Palestine and the suffering of the civilian population under illegal occupation. We deliberately chose to do this mainly by using field recordings of ambient sounds in Palestine (traffic jams, a wedding celebration, a checkpoint crossing, radio broadcasts, etc.) that simultaneously convey the sense of emergency and the persistence of hope which takes the form of resistance in the face of oppression and humiliation. We felt it was important to support hope, using art, and in particular electronica, breakbeats and experimental sound art because of their universal dimension (bypassing some limitations of more traditional activist music that relies on lyrics in a specific language), but also because these are art forms we enjoy.
The name Checkpoint 303 was originally inspired by the name of a military checkpoint that separates Bethlehem from Jerusalem, known as Checkpoint 300. Our latest Checkpoint 303 CD « The Iqrit Files », released on Nakba day in May 2015, features collaborations with Palestinian singers Jawaher Shofani and Wardeh Sbait, and poet Jihad Sbeit. These voices represent the living memory of the Palestinian village of Iqrit whose inhabitants were driven out by force in 1948 and which was then destroyed by Israeli forces on Christmas Eve in 1951. The story of this village is representative of the tragedy of hundreds of other Palestinian villages. The CD was recently selected best album of the year 2015 by UK's New Internationalist magazine.
To spread our message for justice and resistance, our music is released via several media outlets and is available through free downloads through our own website and soundcloud pages. Checkpoint 303 performs electronic audio-visual sets as well as live electro-acoustic gigs with guest musicians and activist artists. Checkpoint 303 has performed shows in Palestine, Tunisia, Egypt, Lebanon, Europe, Australia, USA, Canada, Japan, Chile, etc. Checkpoint 303 was also invited by Massive Attack as supporting act for several shows in the UK and France.
This past two months, terrorist attacks have happened in Beirut, Baghdad, Paris and Bamako; there are on going in Northern Nigeria, Mali, Syria, and Palestine, what do you believe is the role of artists and musicians in an era facing such a crisis?
Musicians and artists are often closer to the truth and reality on the ground than politicians will ever be, in addition – compared to politicians – activist artists can describe the situation as it is felt/experienced by civil society, without getting stuck into mind-numbing political correctness or worse: electoral political tactics. The reactions of politicians, be it in the Arab world or in the west, following terror attacks in their respective countries if often very similar. The mix of rhetoric calls for « unity » in the face of terror and vows « to destroy those who hate us and our way of life » is a stance that we have seen over and over again. It stems from a sad combination of short-sighted vision and egocentric individual political ambitions, and generally leads to dramatic failure.
Fear has become a political tool that has led to more division within and between our societies and to drastic restrictions on civil liberties. By contrast, the voice of activist artists is closer to the people. Politically involved artwork in its various forms, including music, often reflects the origin of the crisis. Rather than being ideological, in most cases, the roots of most modern-day conflicts and wars are rooted in injustice in all its forms: economical, social, legal and moral. It seems to me that the focus on the roots of a problem is a more intelligent and promising approach in order to solve it.
Are you anyhow concerned that a part of our youth, in Europe, in Africa and in the Arab World, seems to be more sensitive to appeal to violence than to messages of respect and political awareness?
Although they are important, these « messages of respect and political awareness » that you mention have an inherent limitation: they do not change the situation on the ground. If you're living in poverty or suffer from social or economical discrimination or exclusion, you will need more than a good song to help you feel better about your life, its value and your role in society. This does not mean that art activism is useless. There is no doubt that raising awareness is crucial. But we should not be naive: the key is an improvement in the quality of life, increases in hope for a better future, the feeling that justice, equality and freedom are around the corner. Activist music can play a role in pinpointing towards the injustices and in supporting hope and encouraging politically informed socially driven non-violent resistance to oppression, i.e. Ghandi-style!
Do you believe art can be a form of resistance? How do you still try to incarnate this value?
Definitely. Art can be a form of resistance. Actually, in some places on earth mere existence is a form of resistance: breathing becomes a political statement. There are many ways by which art can embody resistance. Probably one of the most important ones is resistance to brainwashing in various forms (ranging from brainwash by mainstream media to brainwash by ignorance and obscurantism). Checkpoint 303 tries to do this by avoiding the same trap, in other words, avoiding propaganda. Our music and art work does not try to tell people what they should think, instead we hope that we can trigger enough curiosity for our listeners to feel compelled to find out more by themselves and make up their own mind up about what is going on in today's world. Do not rely on your main media outlets or your prime minister to tell you what is actually happening and what needs to be done, find out yourself. We hope our music and our activism will inspire people from the west to travel to the Middle-East or other Arab countries, or any other part of the world (Turkey, Iran, Africa, Asia, etc) and discover for themselves what life looks like when explored in real rather then by watching TV. If you can't pack your bags and leave, start by talking to your neighbours and interacting with foreigners in your city.
In parallel, from the perspective of the Arab civil society, we hope that our music will inspire people to resist by creating art and to explore news ways of standing-up in the face of injustice.
What are your next projects in that matter?
We have a bunch of exciting new releases planned for 2016, including collaborations with musicians and documentary filmmakers. To hear about all of this when it's ready, please stay tuned via Checkpoint 303's website, mailing list, twitter and facebook accounts.
—
Link to official website:
http://www.checkpoint303.com/
Soundcloud:
https://soundcloud.com/checkpoint303/sets/the-iqrit-files
https://soundcloud.com/checkpoint303
Facebook:
https://www.facebook.com/CP303/